Turdilli or Turdiddri
Turdilli... also known as Turdiddri, are traditionally made by all Calabresi at Christmas time!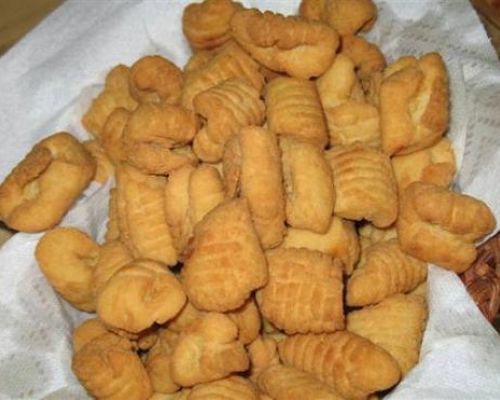 Ingredients
For 1 Batch(es)
Recipe
1

pound

flour

5

ounces

honey

4 1/2

ounces

extra virgin olive oil

8 1/2

ounces

Moscato wine or any white sweet wine

cinnamon powder

1

orange zest

oil for frying
Directions
In a

mixing bowl, add flour, EV olive oil, wine, cinnamon and the zest of an orange finely grated.

Work the dough gently and amalgamate all the ingredients.

Take a piece of dough, roll it and make a 1 inch flat strip. Cut the strip in small pieces of about 1 inch.

With a fork impress lines onto each of the pieces and curl them into small cylinders.

In a pan at low heat melt the honey and add the juice of one orange.

Let it cool and pour over the Turdilli.
Reviews
Thursday, 14 December 2017
We have these every year and they are amazing!
- Danny Campo
Thursday, 14 December 2017
very good
- pina220
Thursday, 14 December 2017
We make these every year - my family from Calabria and my Nonna called them Turdilli. I love them.
- tenofclubs
Thursday, 14 December 2017
Can we make these without honey? Just like a fried bread
- Sweetitalian
Thursday, 14 December 2017
This is really close to the recipe I learned from my husband's mother 42 yrs ago. We have made it ev...
See Full Review >>
- Casalino
Thursday, 08 September 2016
THESE ARE SIMILAR TO COOKIES THAT MY MOM USED TO MAKE EXCEPT THAT SHE USED BURGUNDY WINE IN THE DOUG...
See Full Review >>
- AdeleV