Baccala` Balls - Polpette di Baccala`
Baccala` Balls - Polpette di Baccala` as made in Monte di Procida, Campania. Perfect for Christmas Eve.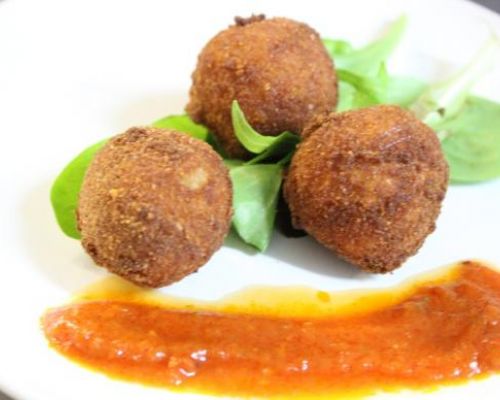 Ingredients
For 2 Dozen(s)
For the Baccala Balls:
1 1/2

pounds

Baccala`, soaked for 48 hours in cold water which should be changes several times.

7

ounces

boiled mashed potatoes

1

cup

bread crumbs

2

slices of bread soaked in water or milk

1

tablespoon

capers, chopped

2

eggs, beaten

1/2

cup

flour for breading

1

teaspoon

salt

pinch of pepper

2

cloves garlic, finely chopped

2

tablespoons

parsley, finely chopped

Sauce for Dipping:

sauce, olives, garlic, oregano and red pepper flakes.
Directions
Boil the Baccala` for 15-20 mins. in unsalted water. Let it cool and remove all bones.

Mash the Baccala and mix with the boiled potatoes to create a soft, chuncky mix.

Mash the bread slices with your hands and ad to the mix.

Add 1 egg, garlic, capers, salt and pepper and mix well.

Create balls with the mix, roll them in the flour, wet them in the egg wash and then roll them in the bread crumbs until they are completely coated.

Fry all the balls in hot oil all until they are golden brown.

Serve with a Tomato dipping sauce.