Braciole
Nice braciole recipe made with pine nuts, sausage, or hard boiled egg. Sauce recipe to go with it as well.
Take a look at me cooking it on our Cleveland, Ohio Morning show. http://fox8.com/2013/01/29/january-29-2013-2/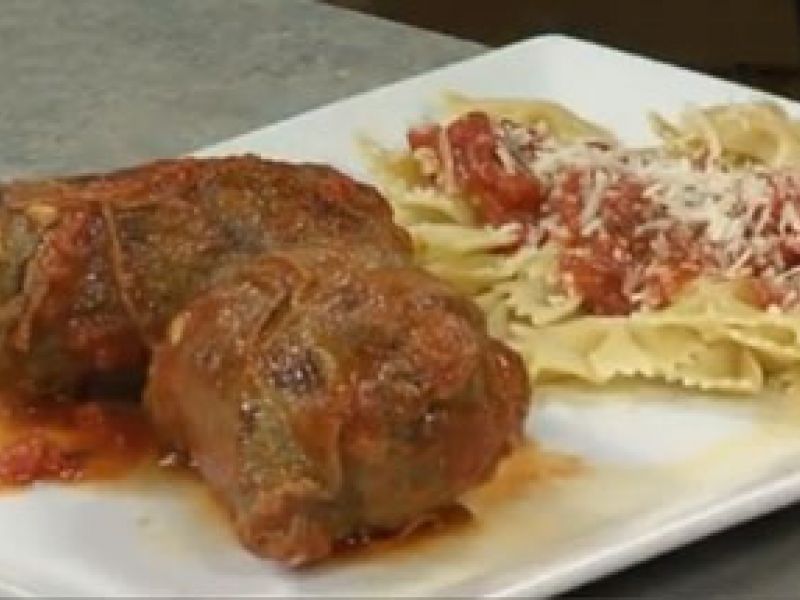 Ingredients
For 6 Person(s)
For the Braciole:
1

round steak sliced extra thin

1/4

cup

freshly grated parmesan reggiano

1/3

cup

chopped Italian parsley

1/4

cup

pine nuts lightly toasted

pinch of salt and pepper

bulk Italian hot sausage

2

thin slices of prosciutto

hard boiled egg
For the Sauce:
extra virgin olive oil

5

cloves garlic, finely chopped

15

fresh basil leaves, chopped

112

ounces

petite diced tomatoes

6

ounces

tomato paste
Directions
Braciole:

Lay out the round steak and spread the Parmesan, parsley, pinch of salt and pepper and pine nuts on the steak.

Here you get to choose which other filling you'd like to use.

Either lay out two slices of prosciutto on the steak or spread some raw hot sausage on the steak or set the whole hard boiled egg at one end of the steak.

Roll the meat tightly from one end to the other trying to keep the sides tucked in as much as possible.

Tie up the braciole with cotton string to hold it together and brown it it a pan.

After browning, place the bracioles in the sauce ensuring their covered.

Cook them for about 3 hours in the sauce on lowest heat available with the pot partially covered stirring every 1/2 hour.

Remove the bracioles from the sauce, remove the string and slice them up and put a little sauce and sprinkle some of the Parmesan on them.

Serve with a side of spaghetti.

Sauce:

Add just enough oil to cover the bottom of the pot.

Add the garlic to the pot once the oil is heated up, and allow it to cook until it starts to soften up a bit.

Pour the four cans of diced tomatoes into the pot and add the basil.

Once its been heated up a while, add the can of tomato paste stirring to ensure its dissolved into the sauce.

Cook on the stove top on low.
Recipe Notes
This is a recipe for one braciole. One braciole per person is usual serving size. Up to about 6 bracioles can be added to the sauce. (Start the sauce while you are making up the bracioles).
Categories:
Entree Recipes
,
Meat Recipes
,
All Recipes
,
Christmas Recipes
,
Thanksgiving Recipes
,
Easter Recipes
,
Valentine's Day Recipes
,
Braciole Recipes
,
Mother's Day Recipes
,
Father's Day Recipes
,
Valentine's Day  Recipes
,
Christmas Dinner Recipes
,
Thanksgiving Entree Recipes
,
Christmas Entree Recipes
,
Easter Entree Recipes
Reviews
Thursday, 08 September 2016
I love Braciole...many different recipes..this was excellent!!
- sandee2323