Ann's Amaretti Cake
This cake is more like a brownie, because it is not made with flour, but amaretti cookies and almonds. Melted chocolate is added in to enrich the flavor. I chose to submit this cake because it is my daughter, Ann's, favorite and it is also her birthday on July 5th.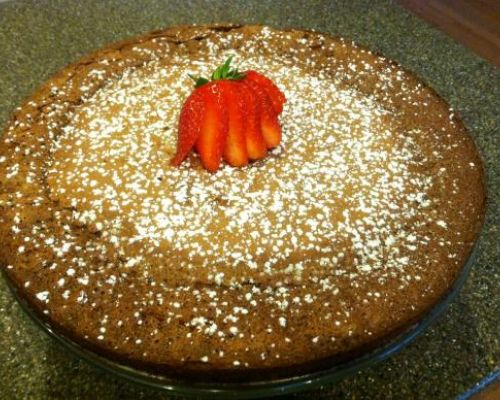 Ingredients
For 8 Person(s)
For the Cake:
3/4

cup

semisweet chocolate chips

1

cup

sliced almonds

1

cup

baby amaretti cookies

4

ounces

unsalted butter, room temp

2/3

cup

sugar

4

large eggs
Directions
Preheat oven to 350 degrees. Spray 9-in springform pan with nonstick spray & refrigerate

In a small bowl, microwave chocolate chips, stirring every 20 seconds until melted and smooth.

In a food processor, combine almonds and cookies, pulse until finely ground. Transfer to a bowl.

Then, add butter and sugar to the processor and blend until creamy.

With the machine still running, add the eggs one at a time. Then proceed to add nut mixture and melted chocolate. Pulse until all is blended.

Pour the batter into the pan. Bake until the center puffs, about 35 minutes.

Cool cake for about 15-20 min, then transfer to a platter.
Recipe Notes
After cooled, I often sprinkle powdered sugar on top with some sliced strawberries to add a little something extra.
Categories:
Dessert & Cookie Recipes
,
All Recipes
,
Christmas Recipes
,
Thanksgiving Recipes
,
Easter Recipes
,
Valentine's Day Recipes
,
Mother's Day Recipes
,
Father's Day Recipes
,
4th July Recipes
,
Easter Cakes and Cookies
,
Valentine's Cake and Cookie Recipes
,
Cakes and Pies Recipes
,
Summer Dessert Recipes
,
Thanksgiving Dessert Recipes
Reviews
Thursday, 14 December 2017
This cake is delicious!!
- Napoliamore
Thursday, 14 December 2017
This is sure to satisfy any sweet tooth! this cake is moist. I love the amaretti cookies with the ch...
See Full Review >>
- annvictoria5
Thursday, 14 December 2017
really really delicious,not too sweet,super easy recipe to make. Everyone loved it. I used 2 cups gr...
See Full Review >>
- Josy
Thursday, 08 September 2016
I made it today and it was super easy and tastes delicious not too sweet! Certainly going to make i...
See Full Review >>
- Iluv2cook14