Chocolate & Vanilla Olive Oil Twist Cookies
Chocolate & Vanilla Olive Oil Twist Cookies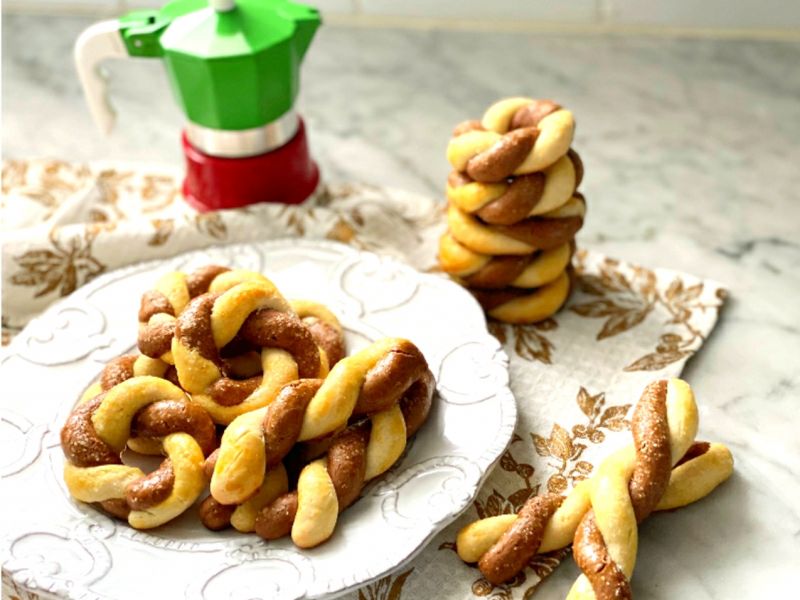 Ingredients
For 4 Dozen(s)
For the Cookies:
4

cups

plus 2 tablespoons 00 or all purpose flour, divided

2

teaspoons

baking powder

5

large eggs, divided

3

packets Vanillina Powder, or 2 teaspoons vanilla extract

1

cup

granulated sugar, plus more for sprinkling

3/4

cup

olive oil

2

tablespoons

unsweetened cocoa powder
Directions
Preheat your oven to 375 degrees. Line a baking sheet with parchment paper. Set aside.

In a mixing bowl, whisk together 4 cups of the flour and baking powder. Set aside.

In another mixing bowl combine 4 of the eggs, the vanilla, the sugar and the oil. Whisk for 2-3 minutes.

Sift the flour and baking powder into the wet ingredients and mix with a spoon until fully combined and a soft dough forms.

Divide the dough in half and separate into two bowls.
*For best results I recommend using a kitchen scale and weighing the dough.

In one bowl, add the remaining 2 Tablespoons of flour and work it in with your hands.

In the other bowl, add the 2 Tablespoons of cocoa powder and work it in with your hands.

Take a Teaspoon of each dough and roll them both into ropes about 3-4 inches long. Twist them and join the two ends to form a ring or connect them at one end and twist to make long twists.

Place your cookies about 2 inches apart on the prepared baking sheet.

Whisk the remaining egg in a bowl and brush the cookies with the egg wash. Sprinkle with granulated sugar and bake for 12 minutes or until the bottoms of the cookies have slightly browned.