Broccoli Parmigiano Soup With Tortellini
Broccoli Parmigiano Soup With Tortellini.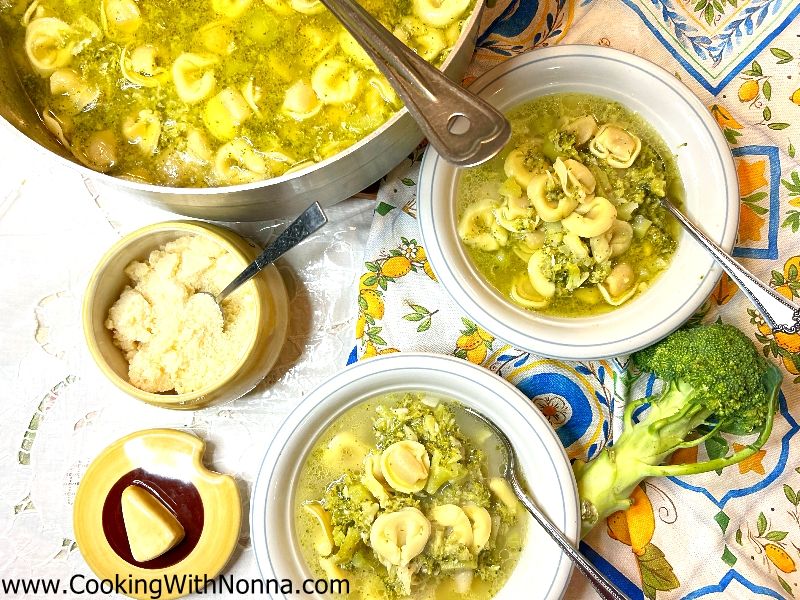 Ingredients
For 4 Person(s)
For the Pasta:
3

heads of broccoli, stems peeled, cut into bite sized pieces

1/4

cup

extra virgin olive oil

10

garlic cloves, sliced

1/4

teaspoon

red pepper flakes

10

cups

water

2

chicken bouillon cubes

1

pound

frozen cheese tortellini

8

ounces

grated Parmigiano Reggiano Cheese
Directions
Put a large stock pot over a medium flame and heat the oil. Add the garlic and red pepper flakes and cook until fragrant and golden, about 30-40 seconds.

Add the broccoli to the pot and toss in the oil. When the broccoli turns bright green, add in the water and boullion cubes.

Bring to a boil and cook for 20-25 minutes.

Using a potato masher or an immersion blender, mash roughly half the broccoli, but make sure to leave some texture.

Return the pot to a boil and add the tortellini. Cook according to package instructions.

Stir in the grated Parmigiano cheese until melted.

Serve in warm bowls with an extra sprinkle of cheese.
Reviews
Thursday, 23 February 2023
OMG!!! This soup is so delicious! Shared it with friends who asked if I could bring them more. Getti...
See Full Review >>
- eflavetta