Butternut Squash Risotto
Butternut squash risotto can be served as an appetizer or as a main entrée. You can use any type of squash in this recipe. For Thanksgiving, you can also make this into a cinnamon pumpkin risotto, it's guaranteed to be a big hit. In true Italian style, serve this risotto on a plate and not in a bowl.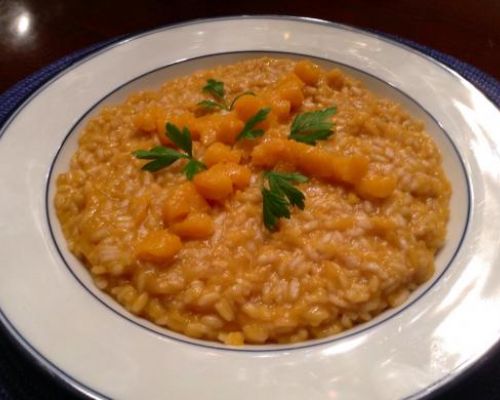 Ingredients
For 3 Person(s)
For the Risotto:
1

cup

Arborio or Carnaroli rice

1/2

cup

white wine

1

quart

chicken stock

1/4

cup

Parmesan or Romano cheese

1

butternut squash

1/4

cup

minced onion

2

tablespoons

extra virgin olive oil

salt & pepper to taste

1/4

teaspoon

ground nutmeg

1

tablespoon

butter
Directions
Cut butternut squash in half lengthwise and place in a roasting pan that has been coated with olive oil.

Bake squash in a preheated 350° oven for about 35 minutes or until the skin can be pierced with a fork.

After squash has cooled, using a spoon remove all of the flesh from the skin.

Cut 1/4 of the squash into 1/2" cubes then, purée the rest of the squash in a food processor. Set aside.

In a saucepan, bring the chicken stock to a boil then lower the heat to a very low simmer.

In a large skillet heat the oil then sauté the chopped onion but do not let it brown.

Add rice to skillet and toast it for about 2-3 minutes making sure that each kernel is glossed over from the oil.

Add the wine and continue to sauté until the wine has evaporated.

Add about 2 ladles of stock to the rice and stir continuously until it has been absorbed.

Continue adding stock but only after each ladle has been absorbed into the rice.

When the risotto is almost done, add 2 cups of the butternut squash purée, season with salt and pepper, add the nutmeg then stir in an additional ladle of stock.

As soon as the risotto is done, add the cheese and the butter.

Serve the risotto on a flat plate and top it with the cubed squash for presentation.
Recipe Notes
Be certain to continuously stir the risotto. I usually cook risotto cook for about 16 - 17 minutes and no longer. I prefer my risotto to be a touch al dente. If you have any leftover risotto, try making Arancini. Arancini (rice balls) is another favorite of mine that my Nonna always used to make for me with the leftover risotto from the day before.
Categories:
First Course Recipes
,
All Recipes
,
Thanksgiving Recipes
,
Valentine's Day Recipes
,
Risotto Recipes
,
Butternut Squash Recipes
,
Mother's Day Recipes
,
Father's Day Recipes
,
Valentine's Day  Recipes
,
Vegetarian First Course Recipes
,
Mediterranean Diet First Course Recipes
,
Thanksgiving First Course Recipes