Cannellini Dip with Eggplant Chips
Cannelini Dip with Eggplant Chips.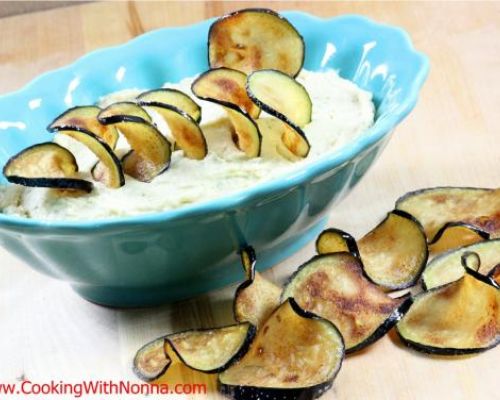 Directions
In a food processor combine the beans, lemon juice, mint, oil, cheese and garlic. Process until smooth, about 30 seconds.

Slice the eggplant into thin slices. Fry until golden brown. Sprinkle with salt as soon as they come out of the oil. Serve immediately.
Categories:
Appetizer Recipes
,
Easy Recipes
,
All Recipes
,
Christmas Recipes
,
Thanksgiving Recipes
,
Easter Recipes
,
Cooking with Rossella
,
Valentine's Day Recipes
,
Super Bowl Recipes
,
Mother's Day Recipes
,
Father's Day Recipes
,
Memorial Day Recipes
,
4th July Recipes
,
Eggplant Recipes
,
Labor Day Recipes
,
Valentine's Day  Recipes
,
Summer Appetizer-Side Recipes
,
Vegetarian Appetizer Recipes
,
Thanksgiving Appetizers and Sides Recipes
,
Christmas Appetizer Recipes
,
Easter Appetizer and Side Recipes