Capuzzelle - Lamb's Head alla Barese
Lamb's Head (Capuzzelle) alla Barese... an Easter delicacy!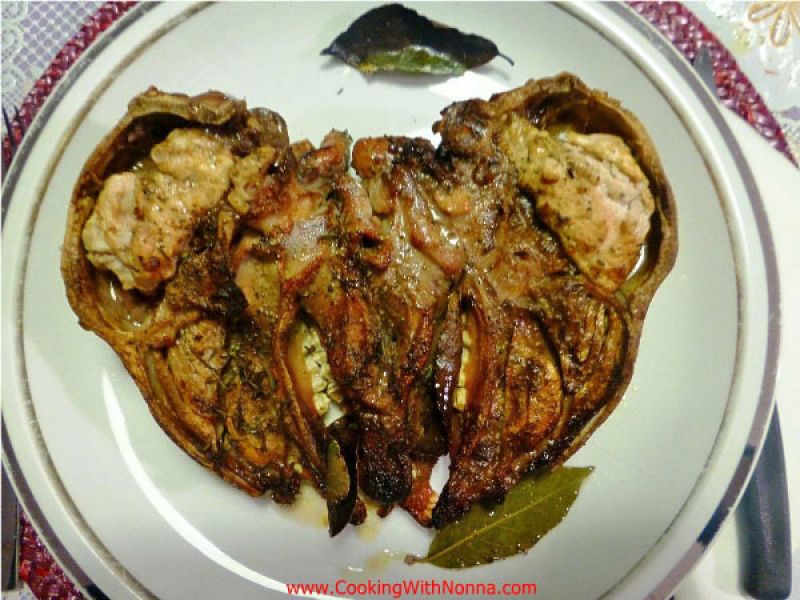 Ingredients
For 2 Person(s)
For the Capuzzelle:
1

lamb's head cut in half

1/2

cup

vinegar

2

tablespoons

extra virgin olive oil

1/4

cup

white wine

2

bay leaves

pinch of thyme

pinch of oregano

2

sprigs of fresh rosemary

salt & pepper
Directions
From your trusted butcher, buy a lamb's head and have the butcher cut it in half for you. Make sure they cut it with an electric saw so that you get a very clean cut.

Wash the head under fresh water and remove any blood residues that may be present.

Fill a bowl with fresh water, add the vinegar and the lamb's head. Let it sit overnight.

Preheat the oven to 400F.

Wash the head once again under fresh water and tap dry it.

Sprinkle both sides of the heads with salt, pepper, thyme and oregano and place the halfs in a baking pan with the cut side up.

Drizzle olive oil over the heads, cover the two halves of the brain with a bay leaf so that the brain will not burn. Add a sprig of rosemary on top of each half.

Put the pan in the oven and bake for about 15 minutes.

Drizzle the white wine over the heads and bake for an addtional 30-35 mintes, depending on the size of the head.
Recipe Notes
PS: two indicators to look at to make sure that the head is cooked are: 1) the brain will show no more blood spots and the tongue will be firm.
Reviews
Thursday, 14 December 2017
Elisa, you are suggesting a totally different recipe. If you have anther recipe for making Capuzzel...
See Full Review >>
- rossella rago