Chicken Sausage Meatballs
These chicken sausage meatballs can be served by themselves as appetizers, or simmer in your favorite tomato sauce for at least a half hour to infuse the sauce with flavor from the meatballs. Serve meatballs and sauce over al-dente cooked pasta.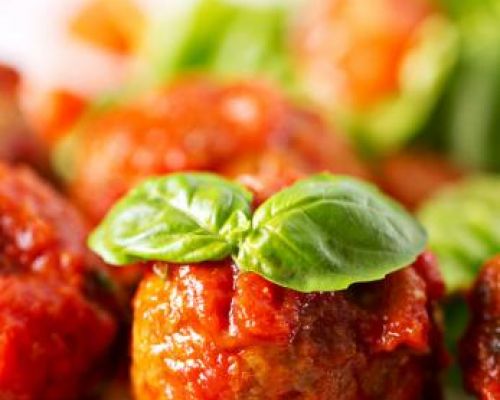 Ingredients
For 2 Dozen(s)
For the Meatballs:
2

pounds

chicken sausage, casing removed

1/2

cup

extra virgin olive oil

4

cloves of garlic

3/4

cup

Italian parsley, chopped

1 1/8

cups

grated Pecorino Romano cheese,

2

cups

fresh breadcrumbs made from crustless Italian bread cut in 1/4 inch pieces

2

eggs, whisked in a small bowl

1 1/2

cups

whole milk

1/2

tablespoons

black pepper, freshly ground
Directions
If using fresh bread, trim crusts and cut into 1/4" pieces and toast on baking sheets in 300 degree oven for about 10 minutes, until completely dry. Can do a day ahead. Place bread crumbs in a bowl and add milk. Stir until bread crumbs are evenly moistened. Let stand 10 minutes.

Remove the Chichen Sausage Rolls from casing and place in a large bowl and break up into small chunks.

Add the minced garlic, pepper, grated cheese and parsley. Using hands, gently mix together. Squeeze the milk from the bread crumbs, reserving milk.

Add bread crumbs to meat mixture, gently mix together.

Add the eggs and mix until all ingredients are evenly combined, but don't over mix. Moisten hands with some of the reserved milk and shape into 1 3/4" - 2" diameter meatballs, and place on a baking sheet.

Flatten the meatballs slightly, so they'll brown evenly on both sides.

In a large 12" skillet, add enough olive oil to cover about 1/8" of the bottom. On medium high heat, brown meatballs 5 minutes per side. Don't over crowd skillet. They should be lightly browned on both sides.
Categories:
Entree Recipes
,
Chicken Recipes
,
Easy Recipes
,
All Recipes
,
Christmas Recipes
,
Thanksgiving Recipes
,
Easter Recipes
,
Valentine's Day Recipes
,
Super Bowl Recipes
,
Mother's Day Recipes
,
Father's Day Recipes
,
Meatballs Recipes
,
Valentine's Day  Recipes
,
Thanksgiving Entree Recipes
,
Christmas Entree Recipes
,
Easter Entree Recipes