Cuzzupa - Calabrian Easter Cake
I have a recipe that I would love to share with you. It is a very traditional Italian Easter cake called "Cuzzupa". This recipe was my great-grandmother Sofia's and originated from Calabria in Italy. It is baked with Anise seeds (licorice flavor) and made into a braided wreath or nest with colored sprinkles on top of the cakes. The consistency is a cake type of dough not bread and the anise flavor adds a very distinct taste to them. We had a large kitchen and we would prepare for baking day with a large wooden board that we used to roll out our dough and create our special cakes and cookies for special holidays through out the year. This antique pastry board was passed down through the years which I have inherited to create my own delectable sweet treats. As I roll out my dough, I think back to a simpler time. The smells in the kitchen would always give me that warm and toasty feeling. It was a feeling of love, family, and food. Food was and still is a big part of my family.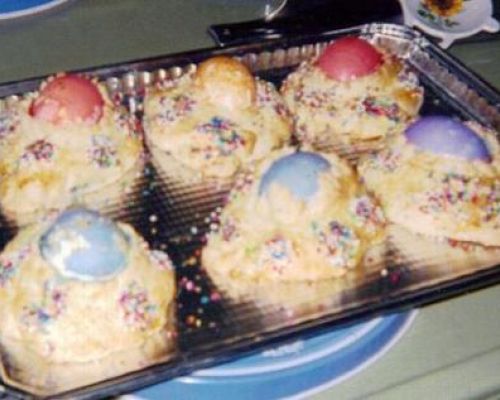 Ingredients
For 1 Batch(es)
For the Cuzzupa:
6

cups

all purpose flour

4

teaspoons

baking powder

pinch of salt

anise seeds (between 1/3 and 1/2 oz of crushed and cleaned anise)

4

tablespoons

Crisco (room temperature)

1

cup

sugar

6

large eggs (save 1 egg white to brush on cakes before baking)

3/4

cup

milk

candy sprinkles
Directions
Color hard boiled eggs (amount is up to you) a few days ahead of time. Preheat oven to 350° -375° depending on your oven. Grease flat cookie sheets or pans.

Crush Anise seeds and put into dish (before, use a cotton handkerchief to gather anise and twist hanky under it. Then rub hard on the ball of Anise. After rubbing it rolled up in between both hands (make fists.) Open carefully and sort out Anise from brown husks and sometimes small stones.)

Sift together flour, baking powder and salt. Then mix in Anise. Mix in Crisco with sugar and after make a well shape. (Remember, this is the traditional Old Italian way, but you can also use a bowl to mix all ingredients.) Put in eggs (save/1 egg white) and milk.

Gradually take flour from sides of the well and mix with eggs and milk. Don't break the wall as all liquid will run out. When all mixed you knead dough till all mixed good and a smooth texture. Might have to put a little flour on board or counter, so it will not stick. Not too much flour or the cakes will be too dry. Then cut a chunk and leave the rest on the side of board or counter.

Roll out dough in a long and thin strip. Make the strip the thickness of a wooden spoon handle, not any thinner as the dough will break. If you twist 2 strips together to make a braid make each a little thinner than your finger. They will swell as they bake. Put your colored eggs in the braid, nest or dolls, whatever you decide to create. Be careful as you put them on a baking sheet so they don't break or crack. Roll small pieces of dough and then flatten out with the palm of your hand to cover around the side of the egg on dolls or nests. This helps keep the eggs more secure. If you make dolls, put a slit on feet and hands.

Now beat saved egg white and with a pastry brush, brush egg white on all parts of your cakes. (Careful not to get egg white on cookie sheet as it will burn and also try to keep egg white off of colored eggs as they will be spotty after they bake.) After the egg whites are on brushed on the cakes dip a finger in egg white mixture and then dot with candy confetti sprinkles on the dolls, crosses or what ever you made.

Then bake in oven for about 20-25 minutes depending on your oven. They should be lightly browned. Let them sit about 10 minutes to cool off before taking them off the cookie sheet/pans, they may crack or break so be careful removing them from the pans. You can store in an air tight cookie tin for about a week, if they don't get eaten before that.
Recipe Notes
With this recipe you can make nests, dolls, cutout cookies, or any shape you wish. There is really no yield as it depends on the size of your shapes. This is a great recipe to have your children help as well. Just have fun and enjoy! Come and stop by my blog at: http://www.familyplusfoodequalslove-dottie.blogspot.com
Reviews
Thursday, 14 December 2017
Love!!! Thank you so much for sharing this recipe.
- MiaK