Easter Zeppole with Caramel Pastry Cream
Easter Zeppole with Caramel Pastry Cream.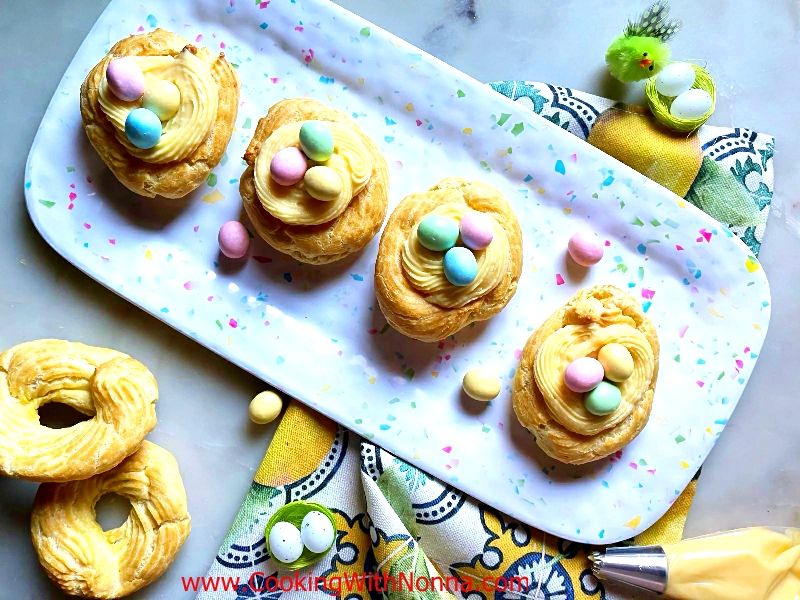 Ingredients
For 1 Batch(es)
For the Caramel Pastry Cream:
1/4

cup

cornstarch

1/2

cup

granulated sugar

2

packets vanillina powder, or 2 teaspoons vanilla extract

4

large egg yolks

2

cups

whole milk

2

tablespoons

water
For the Zeppole:
1

cup

water

1/4

cup

Crisco shortening

1

pinch of salt

3/4

cup

all-purpose flour

4

large eggs

candy coated chocolate eggs for decorating
Directions
Yield: 8 Zeppole

To make the Caramel Pastry Cream:

Place the cornstarch and 1/4 cup sugar in a medium bowl and mix together well.
Add the egg yolks and mix until a paste is formed.
Stir in 1/2 cup milk. Place remaining 1/4 cup sugar vanilla and water in a small heavy pot and stir to combine.
Cook over medium heat, swirling the pan occasionally but not stirring, until sugar turns a medium amber.
Carefully pour in remaining milk and stir until smooth. Bring mixture back to a simmer then pour hot mixture over mixture in bowl, whisking constantly. Pour back into saucepan.
Cook over moderate heat, stirring constantly, until smooth and thick. Remove from heat and stir an additional minute.
Transfer to a bowl. Cover with buttered parchment or plastic wrap touching top of cream to avoid skin formation. Cool to room temperature before using.

To make the Zeppole:

In a medium saucepan bring the water, shortening and salt to a boil. Once the mixture comes to a boil, add the flour and reduce the heat to low. Mix with a wooden spoon continually for about 30 seconds until all the flour is incorporated and a soft dough forms that pulls away from the sides of the pan. Turn off the heat and continue stirring for 30 seconds. Remove from heat and transfer to a mixing bowl. Cool until the dough is cool enough to handle.
Once cooled mix with your hands for 5 minutes. If you find any clumps of flour that did not dissolve remove them and discard. Cool the mixture to room temperature.
Add in the first egg and mix with your hands until completely absorbed. Add in the second egg and repeat the process.
Add in the 3rd and 4th egg, mixing with an electric mixer until each egg is fully absorbed before adding the next. Mix until the dough is very smooth.
Preheat the oven to 425°F. Line a baking sheet with parchment paper. Carefully pipe eight circles of dough about 3 inches in diameter and 2 inches apart on the prepared baking sheet. Overlap the dough by no more than 1 inch. Bake for 18 to 20 minutes, or until the Zeppole are golden. Cool completely before slicing and filling.
Pipe some of the caramel pastry cream in the center of the Zeppole and top with 3 candy coated chocolate eggs.