Eggplant alla Fungtidd - or... In Barchetta
Baked Eggplant alla Fungtidd as they are called in my Mola di Bari. Or in Barchetta (Boat)!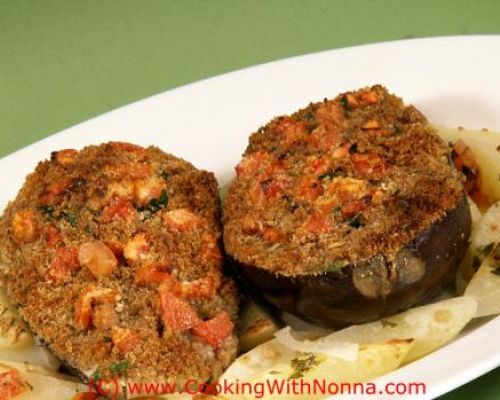 Ingredients
For 2 Person(s)
For the Eggplant:
1

mediun sized eggplant

4

cloves garlic, sliced thin

1

cup

plain bread crumbs

1/2

cup

grated Pecorino cheese

4

medium sized tomatoes, chopped

1

medium onion

2

tablespoons

parsley, chopped

salt & pepper

extra virgin olive oil

4

medium sized potatoes
Directions
Pre-heat the oven at 350F.

Add 1/2 of the parsley and 2 Tbs of EV olive oil to the bread crumbs and mix well.

Take each eggplant half, slightly open the cuts that you made and insert slices of garlic and some parsley.

Cover the cut surface of the eggplant with the bread crumb mix and then add some of the chopped tomatoes.

Position the eggplants in a baking pan.

Cut the potatoes in wedges and put them around the eggplants. Slice the onion and add it to the potatoes.

Garnish the potatoes with some tomatoes and salt & peers as desired.

Add 2 cups of water to the bottom of the pan and finally add a drizzle of EV olive oil on the potatoes and the eggplants.

Bake for about 45 mins. depending od the size of the eggplants. Insert a fork into the eggplant, if it sinks, they are done. Naturally also check for the color.
Recipe Notes
Cut the head off of the eggplant and split it in half. With a sharp knife, score squares on the cut side of the eggplant of about 1/2" deep.