Fiori Fritti di Zucchini
The zucchini flower resembles a tiger lily and is the most prized possession in one's garden. I cannot grow enough of the flowers. Every 4th of July my brother-in-law brings me his flowers from his garden and I fry up a batch and watch everyone enjoy. Now I grow my own so my family can enjoy anytime.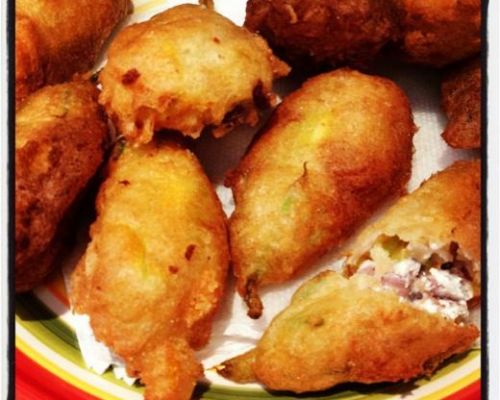 Ingredients
For 10 Person(s)
For the Fiori:
10

zucchini flowers

1

tablespoons

garlic powder

2

teaspoons

active dry yeast

1 1/2

cups

all-purpose flour

1

teaspoon

salt

1/2

teaspoon

pepper

cup

room temperature seltzer (not sparkling water) or plain water

1/2

cup

cubed mozzarella (cut half of block of moz into 0.25-inch thick slices, rotate and cut into three strips, rotate again and cut into cubes)

1/2

cup

ricotta

1/2

cup

flour for dredging

(canola, vegetable, or corn oil will do) for frying
Directions
In a bowl, mix garlic powder, yeast, flour, salt, & pepper. Gradually whisk in seltzer until mixture resembles pancake batter (not too thin)…You may need more seltzer if batter seems too dry. Let rest for about 10 minutes.

In the meantime, heat the oil in skillet to 350 degrees.

Open flowers and place 1/8 tsp of ricotta (I use a demitasse spoon) and one cube of mozzarella, twist gently and finish remain flowers the same way. Dip in stuffed flowers in flour, then place in batter until well coated. Gently place stuffed flowers into oil and fry until golden brown flipping the flowers as you go. Remove from oil drain on paper towels. Eat while still hot and crispy.

You can use any type of stuffing mixture you want; you are not limited to mozzarella and ricotta. You can use any melting cheese such as Gouda, provolone, etc. I have wrapped prosciutto around the cheese and then stuffed them.
Recipe Notes
Sidebar: This batter can be used for other veggies too! Zucchini sticks, mushrooms, broccoli florets, cauliflower florets, etc., come out perfectly. One other thing, you do not have to stuff the zucchini flowers, you can just dip them in the batter.