Genovese Cookies
Sugar-dusted soft cookies with a delicious ricotta and chocolate filling.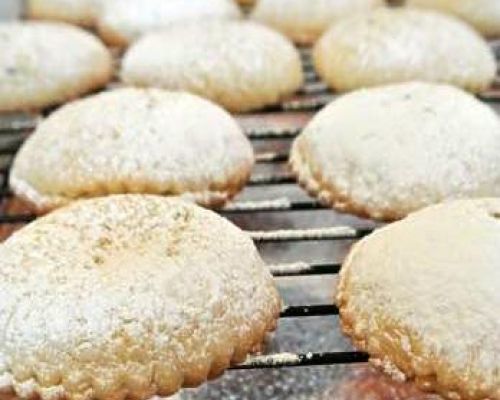 Ingredients
For 2 Dozen(s)
For the Cookies:
3

cups

all purpose flour

1

cup

granulated sugar

3/4

cup

shortening

2

large eggs

3

teaspoons

baking powder

1/3

cup

milk

1

tablespoons

vanilla extract
For the Filling:
2/3

pounds

ricotta

2/3

cup

granulated sugar

2

tablespoons

Cool Whip

1

teaspoon

ground cinnamon

chips to taste (approx 1/2 cup)
Directions
For the cookie dough:

Combine sugar and shortening in mixer bowl and cream together till smooth.

Add eggs and beat till smooth. Add milk and vanilla.

Carefully add flour and baking powder, stirring together by hand or by mixer on lowest speed.

For the filling:

Beat ricotta and sugar together till smooth.

Stir in Cool Whip and cinnamon.

Stir in chocolate chips.

On a lightly floured board, roll out dough to 1/8" thickness and cut circles with 3" cookie cutter.

Top half of the cookie rounds with a spoonful of ricotta filling.

Top with second cookie and seal edges with your fingers.

Prick tops with fork.

Place on ungreased cookie sheet and bake at 350 degrees for 20 minutes.

When done, cookies with be light colored and just beginning to turn golden around edges.

Cool on rack.

Dust generously with powdered sugar.
Recipe Notes
It's not necessary to seal the cookie edges with egg white. Just press edges together; the dough is soft enough that it will melt into itself as you press the edges together. Dough can be re-rolled and cut till you've used it all up.
Reviews
Thursday, 14 December 2017
delicious,my favorited pastry!
- pete1