Italian Easter Bread - Pane di Pasqua
This Italian Easter Bread has been a tradition in my Brooklyn Sicilian family for many years. It's not Easter for me without this bread for breakfast, some creamy Vermont butter on it and a cup of coffee. I've passed the tradition on to my daugher, my Irish friends and many Vermonters who have embraced it and made it their tradition.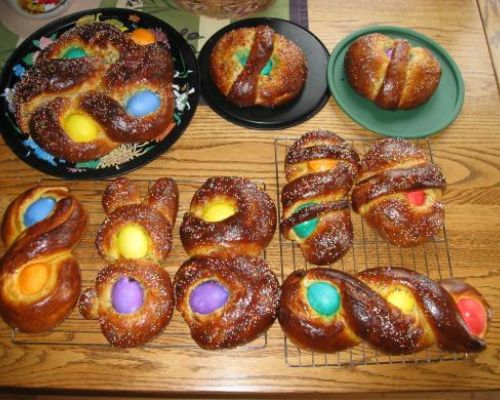 Ingredients
For 1 Batch(es)
For the Easter Bread:
5

dyed UNCOOKED eggs or the amount you need for your use in making a wreath, baskets, bunnies, figure 8's or twists

2

packages (4 teaspoon) active dry yeast

1

cup

warm water - divided

1 1/2

cups

sifted all purpose flour

3/4

cup

shortening or butter

1 1/2

tablespoons

fresh lemon juice

1

tablespoons

fresh grated lemon peel

1

teaspoon

vanilla extract

1

cup

sugar

1

teaspoon

salt

2

large eggs

4

cups

sifted all purpose flour

1

egg yolk and 1 tablespoon milk

tiny multi-colored candies (non-pariels)
Directions
Soften the yeast with 1/2 cup warm water and set aside.

Pour the other 1/2 cup of warm water into a large bowl and blend in the 1.5 cups of flour.

Mix well. Add the softened yeast to this mixture. Beat until smooth and "gooey". Cover the bowl with waxed paper and let stand until doubled (about 40 min - l hour)

Cream together the shortening or butter and sugar in a mixer or food processor.

Add the lemon juice, lemon peel and vanilla.

Add the eggs one at a time, blending well.

The batter should be creamy and fluffy, with no lumps from the butter.

When the yeast mixture had doubled, add the creamed mixture to it and beat well until smooth. This "gluey" dough becomes more like a cake dough.

Measure the remaining 3-4 cups of flour. Add one cup at a time and blend, by hand, until smooth before adding another cup. After 3 cups have been added, turn the dough onto a floured board and knead the last cup of flour into the dough until it is smooth and no longer sticky.

Select a bowl deep enough for the dough to double. Grease the bowl and turn the dough into the bowl so the top has been greased. Cover with waxed paper and a towel and let rise to double (about 2 hours).

After rising, punch dough down with your fists. Divide the dough into two equal balls, cover and let stand for 10 minutes.

At this point, decide what you want to make with the dough. If making one large wreath (a great table centerpiece), roll out each ball and braid then form into a wreath, inserting the uncooked colored eggs in between the braid - one large wreath fits 5 eggs.

If making baskets cut each ball into four parts. Trim a piece off the make the handle. Roll into a strand, and make a circle, insert the egg. Roll the trim piece into a handle and place over the egg and tuck under the basket. Figure eights are just one long strand, twisted, with two eggs placed. To make a bunny, use a figure eight but make the body space larger than the head and place the two eggs in the spaces accordingly. Trim dough from the ball to make the ears and the tail and tuck under the body. This is really easy and kids love the bunnies!

You can make two wreaths out of this dough by using each ball to make a wreath. Split each ball in half, roll into strands, braid and form a wreath. A smaller wreath fits 3-4 eggs each.

Shape your dough and place the eggs in the dough where you want them. Cover loosely with a towel and set aside to rise for a few hours. Don't rush this step.

When breads have risen, bake in a 350 degree oven for 10 minutes. Remove and brush the breads lighty (bread might deflate if you press too hard) with the egg yolk and milk mixture, sprinkle with candies. Place back in the oven:

Large wreath for 30-35 minutes; smaller wreaths for 25 minutes; smaller breads (baskets, figure eights) for about 20 minutes. Breads will be brown, eggs will cook inside the bread.

Let cool and decorate with Easter grass and candies. Best eaten spread with butter for breakfast or tea time.
Recipe Notes
Your baking time will depend on your stove, as in any recipe. Be careful not to burn the bottom of the breads. Leave yourself plenty of time for this recipe - that's part of the tradition! I make three recipes of this every year and give most of them away- mail them to my old aunties in Brooklyn and bring a wreath to work. But I always make one recipe for myself! Enjoy - Buona appetito!