Italian Knot Cookies
These adorable little love knots are iced with the amazing taste of anise. A festive addition to any Easter dessert table or any other holiday.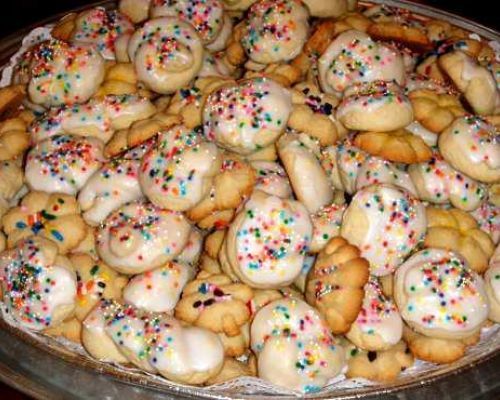 Ingredients
For 4 Dozen(s)
For the Cookies
3/4

cup

melted butter

3/4

cup

sugar

3

large eggs

1

tablespoon

vanilla extract

4

cups

all purpose flour

6

teaspoons

baking powder

1

pinch of salt

1/4

cup

warm water
For the Icing:
2

cups

powdered sugar

1/2

teaspoon

anise extract

pinch of salt

water
Directions
In a mixer, add melted butter, sugar, eggs, and vanilla.

Mix the flour with the baking powder and salt.

Change to dough hooks and add flour mixture.

Add the warm water and mix until it forms a smooth dough.

Make 11/2 inch balls with dough.

Roll balls out to about 4 inch worms.

Bring one end over the other, then underneath and through the middle, like a knot.

Place on baking sheet, four rows of four. (16 cookies on each sheet).

Bake in 350F oven for 13 - 15 minutes.

To Ice: Mix all ingredients together in a bowl.

Add a little water until desired consistency.

Dip cookie upside down into icing, then turn over onto waxpaper.

Sprinkle with candy sprinkles.
Reviews
Monday, 22 April 2019
The cookies were very good. I thought there was a little too much baking powder, which left a little...
See Full Review >>
- diatrasal
Saturday, 23 December 2017
How many cookies will thus recipe Make?
- Mbeeeetz
Thursday, 14 December 2017
My daughter and I chose to make these for Easter because the recipe called for basic ingredients. T...
See Full Review >>
- veronicasmom
Thursday, 14 December 2017
Rosella, I noticed the last line is missing under ICING. It should read, Add a little water until...
See Full Review >>
- Mary-Lou