Lamb Stew with Potatoes
Tiella di Spezzatino di Agnello con Patate (Lamb Stew with Potatoes)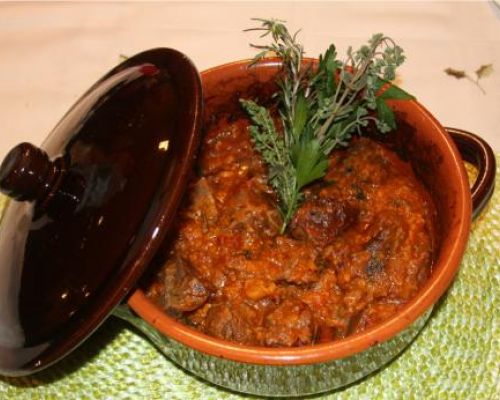 Ingredients
For 4 Person(s)
For the Stew:
1 1/2

pounds

bone-in leg of lamb (you can substitute with shoulder)

8

ripe cherry tomatoes on the vine

1/2

sprig fresh rosemary

1/2

sprig fresh thyme

1/2

sprig dried Italian oregano

1/4

bunch fresh Italian parsley

1/2

medium-sized carrot

1/2

medium-sized celery stalk

1/4

white onion

1

garlic clove

1

medium-sized potato

2

ounces

grated Pecorino Romano

1

teaspoon

sea salt

2

teaspoon

freshly ground black pepper

1/2

cup

extra virgin olive oil

1/2

cup

red wine

1

cup

water

flour for dredging
Directions
Peel and clean both the carrot and the potato. Slice the potato ¼-inch thick and dice the carrot, onion and celery. In a deep, medium-sized clay pot, add the olive oil and sauté the chopped vegetables. Once the vegetables are translucent, add the tomatoes and a pinch of salt. Allow to sauté over a low flame.

Season the lamb with salt on all sides and sprinkle with flour.

Add the lamb, rosemary, thyme, oregano and parsley to the pot and sear for about 8 minutes. Cover the pot, opening to stir every 2 or 3 minutes. Add ½ cup of red wine and stir.

Remove the lid and continue to cook over low heat until the liquid has thickened slightly. Add water, sprinkle with the grated Pecorino Romano, cover again and place the entire pot in the oven to cook for 45 minutes, checking the amount of liquid occasionally. Season with salt and pepper to taste.