Nutella Football Brownies
Nutella Football Brownies.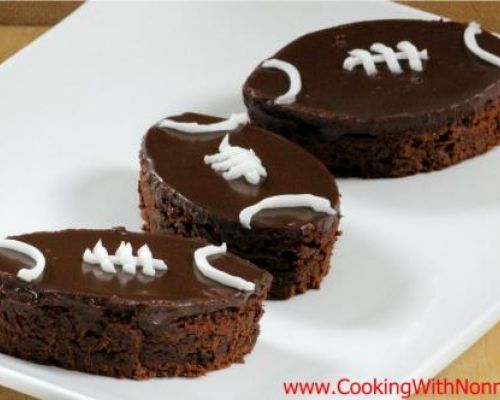 Ingredients
For 3 Person(s)
For the Footballs:
1 1/2

cups

Nutella

1/2

cup

all purpose flour

2

large eggs
Ganache Frosting:
9

ounces

semisweet chocolate

1

cup

heavy cream

2

tablespoons

butter

decorating icing
Directions
Preheat oven to 375 degrees.

Line a 7X11 inch baking pan with aluminum foil. Grease or spray with cooking spray. Set aside.

In a stand mixer combine the Nitella and eggs. Add the flour and mix until just combined. Transfer to the pan and bake for 25-30 mins.

Cool the brownies approximately 30 minutes before frosting.

To make the ganache melt the butter and cream in a small saucepan and heat until just boiling. Pour over chocolate in a separate bowl. Let stand about 3 minutes and them whisk until the chocolate is dark and shiny.

Pour over the brownies and chill in the refrigerator for about an hour. Cut out the football shapes by hand or with a cookie cutter. Draw laces with decorator icing.