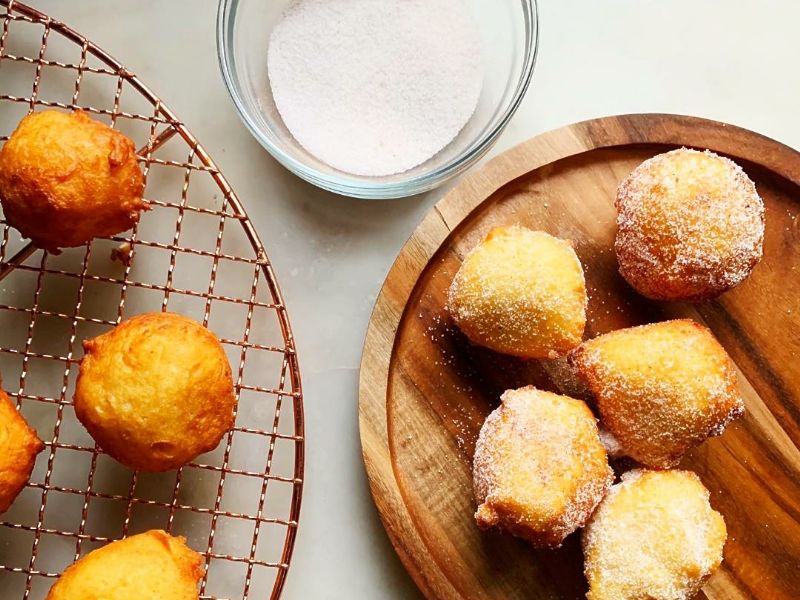 Ingredients
For 2 Dozen(s)
For the Zeppole:
10

ounces

whole milk ricotta

2

large eggs

2

teaspoons

vanilla extract

1

orange, zest only

3

tablespoons

granulated sugar, plus more for rolling the zeppole

1 1/2

cups

00 or all purpose flour

1/4

teaspoon

salt

2

teaspoons

baking powder

olive oil for frying

ground cinnamon for rolling as desired
Directions
In a large mixing bowl whisk together the ricotta, eggs, vanilla, orange zest and sugar until smooth.

Whisk in the flour, salt and finally the baking powder until you have a smooth batter. Set aside.

Put a 5 quart heavy bottomed stock pot over a high flame and heat about 3 inches of oil. You want your oil to be just under 350 degrees, you can use a thermometer if you like.

Fill a small glass or bowl with some oil as well

As soon as the oil is hot dip a small ice cream scoop in the glass of oil first and then begin dropping scoops of batter into the hot oil. Fry in batches until golden brown, about 1-2 minutes each. Transfer to a paper towel lined plate.

On a plate, whisk together some granulated sugar and ground cinnamon as desired. Roll each of the zeppole int the cinnamon and sugar. Serve warm.