Paccheri with Ragu` alla Genovese
Paccheri with Ragu` alla Genovese - One of the most traditional dishes from the neaopolitan cuisine. The legend says that this dish may have been introduced in Naples several centuries ago by chefs from Genoa who had been sent to work in Naples.
You need to be a little patient when you make this dish, but the rewards are well worth it.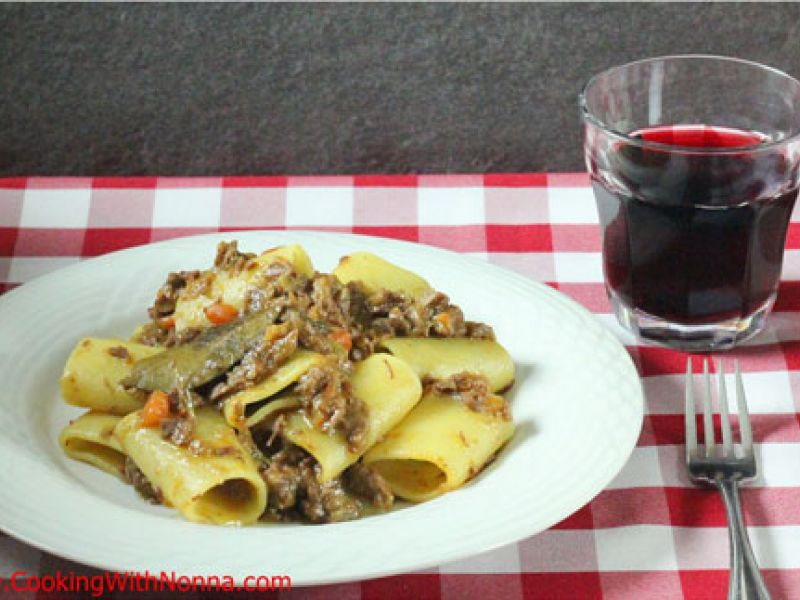 Ingredients
For 4 Person(s)
For the Ragu`:
4

tablespoons

extra virgin olive oil

4

ounces

chopped carrots

4

ounces

chopped celery

1

pound

onion, finely sliced

1

pound

beef, cut in 1/2 inch cubes

1/2

cup

dry white wine

1

sprig of fresh rosemary

salt & fresh black pepper

5

cups

beef broth

1

pound

Paccheri pasta
Directions
In a large sauce pan, (a Dutch Oven pan works real well) add the olive oil, the carrots, celery and bay leaves. Let everything saute for about 5 minutes.

Add the onion and cook it until it becomes translucent. Add the beef and mix it well until it browns.

Add the rosemary and the wine and let it evaporate.

Add salt and pepper as desired.

Add 1/2 cup of beef broth, cover the pan and set flame to very low.

Every 15 minutes for the next 3 hours, give everything a stir and check for liquids. If the sauce is getting dry, add another 1/2 cup of broth.

After 3 hours, add all the remaining broth and continue to cook for another hour or so and contunue to stir every 15 minutes. At the end the sauce will be thick and... delicious!

Cook the Paccheri in salted water to Al Dente, drain and add to the sauce. Toss for 1-2 minutes and serve.
Categories:
First Course Recipes
,
Meat Recipes
,
Italian Pasta Recipes
,
Campania Recipes
,
Easy Recipes
,
All Recipes
,
Christmas Recipes
,
Thanksgiving Recipes
,
Easter Recipes
,
Cooking with Rossella
,
Valentine's Day Recipes
,
Ragu` Recipes
,
Mother's Day Recipes
,
Father's Day Recipes
,
Thanksgiving First Course Recipes
,
Christmas First Course Recipes
,
Easter First Course Recipes