Parsley Straccetti with Meat Soup
Straccetti Pasta made with parsley and cheese in a meat soup.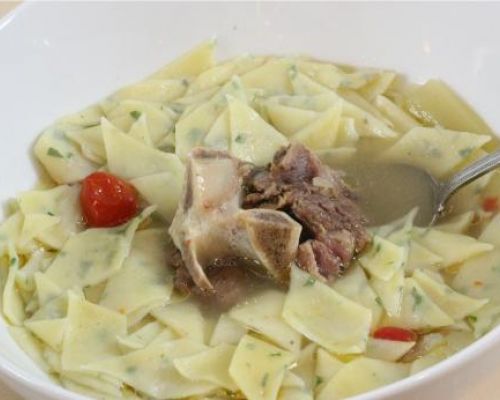 Ingredients
For 4 Person(s)
For the Straccetti:
1

pound

fine semolina

1

cup

water, add a little more water if needed

1/2

cup

fresh parsley finely chopped

4

tablespoons

grated pecorino cheese
For the Soup:
1

pound

beef short ribs

1

pound

pork neck bones

3

whole medium potatoes

1

large onion

10

cherry tomatoes

2

stalks of celery

extra virgin olive oil

salt % pepper
Directions
Make the Straccetti:

On a wood board, add the semolina and mix it with the water. Mix and work it well until you have a ball of dough.

Spread the chopped parsley and the grated pecorino cheese on the board and rework the dough to absorb all the ingredients into the dough as uniform as possible. Make the dough into a ball once again, wrap it in plastic paper and let it rest for 30 minutes.

Once rested, divide the ball into 4-5 parts and with a rolling pin spread each part as thin as you desire... 1/8" is good.

Roll all your pasta and set all the pasta sheets to dry for about 1 hour.

With a sharp pizza cutter, score cuts into the dough so that you will have small rhomboids of pasta. Preferably you can cut them into squares as well.

Cut all your pasta and set aside for cooking it.

Make the Soup:

Put in a pot 4 quarts of water and the meat.

When the water comes to a boil, remove from the top all the brown particles floating on the water (This is very important as it removes some of the fat and leaves the soup clear!)

Add to the water, the potatoes, the celery, the onion and the tomatoes.

Add 3 Tbs of EV olive oil.

Let the meat and all the vegetables cook for about 60 minutes at medium flame.

Check on the meat as you want it to come easily off the bones.

Cook the Straccetti in salted water and serve them with the hot soup. Garnish with more grated pecorino cheese and fresh black pepper as desired.
Categories:
Nonna Romana Sciddurlo
,
First Course Recipes
,
Meat Recipes
,
Italian Pasta Recipes
,
Puglia Recipes
,
Easy Recipes
,
All Recipes
,
Christmas Recipes
,
Thanksgiving Recipes
,
Easter Recipes
,
Soup Recipes
,
Valentine's Day Recipes
,
Meat Bollito Recipes
,
Mother's Day Recipes
,
Father's Day Recipes
,
Homemade Pasta Recipes
,
Easy Pasta Recipes
,
Valentine's Day  Recipes
,
Mediterranean Diet First Course Recipes
,
Thanksgiving First Course Recipes
,
Christmas First Course Recipes
,
Easter First Course Recipes