Pasta e Ceci alla Clementina
A delicious minestra that the Romans ate especially on Friday, a day that at one time was meatless.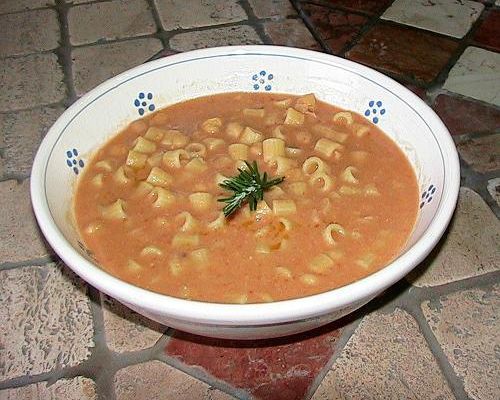 Ingredients
For 4 Person(s)
For the Pasta e Ceci:
1/2

pound

short pasta

1/2

pound

dried chickpeas

1/2

cup

extra virgin olive oil

2

ripe plum tomatoes

3

cloves of garlic

2

fillets of anchiovies

1

sprig of rosemary

salt & pepper
Directions
The night before, put the chickpeas in cold water and let them soak for 14-16 hours.

Pour in a pan the softened chickpeas and cover them with water. Add 2 cloves of garlic and a branch of rosemary.

Cook the chickpeas until they reach an "al dente" consistency (about 2-2.5 hours)

Boil for a few seconds the tomatoes in hot water, remove the skin and cut them in large cubes. Remove the seeds.

In a separate large saute` pan add the EV olive oil, flavor it with a clove of garlic and a branch of rosemary. Remove the garlic and the rosemary as soon as the garlic turns gold.

Add the anchovies and crush them in the hot oil with a fork.

Add the tomato cubes. Salt to taste and let it cook for a few minutes.

As soon as the chickpeas have reached the "al dente" consistency, remove half of them and liquefy them with a blender or a food processor.

Add the liquefied chickpeas and the whole chickpeas with their own water into the pan.

Add the pasta cooked "al dente" and saute for a minute.

Serve in bowls by adding a few drops of EV olive oil, fresh pepper and a garnish with a branch of rosemary.
Categories:
First Course Recipes
,
Nonna Beatrice Bassanetti
,
Italian Pasta Recipes
,
Lazio Recipes
,
Easy Recipes
,
All Recipes
,
Valentine's Day Recipes
,
Chickpeas Recipes
,
Mother's Day Recipes
,
Father's Day Recipes
,
Memorial Day Recipes
,
Labor Day Recipes
,
Heart Friendly First Courses Recipes
,
Mediterranean Diet First Course Recipes