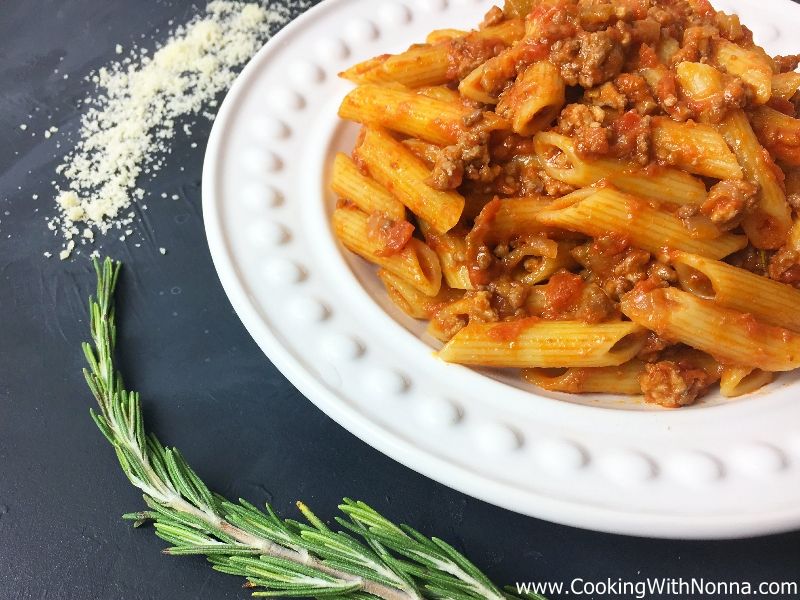 Ingredients
For 4 Person(s)
For the Ragu`:
3

tablespoons

extra virgin olive oil

2

carrots cut into a 1/4 inch dice

1

small onion cut into a 1/4 inch dice

1

celery stalk cut into a 1/4 inch dice

2

sprigs fresh rosemary

1

pound

meatloaf mix, veal, pork and beef

1/2

cup

red wine

2

tablespoons

tomato paste

1

28 oz can crushed tomatoes

1/2

cup

whole milk

2

tablespoons

butter

1

pound

penne pasta
Directions
Put a stock pot with a lid or a dutch oven over a medium flame and heat the oil.

Add the carrots, onions, celery and rosemary to the pot and cook until softened, about 7-8 minutes.

Add the meat to the pan and cook until fully browned, about 5-7 minutes.

Add the red wine to the pot and reduce for 2-3 minutes.

Add in the tomato paste and crushed tomatoes. Lower the flame and cover. Simmer for 35-40 minutes or until the sauce has reduced and thickened slightly. Taste for seasoning and season with salt and pepper as desired.

Add the milk and butter to the pot. Cook for an additional 3-5 minutes.

Bring a large pot of generously salted water to a boil. Drop in the penne and cook until al dente.

Drain and add to the pot with the sauce. Toss for 1-2 minutes over a medium flame.

Serve in warm bowls with plenty of grated parmigiano cheese.