Chiusoni Fresh Pasta with White Sausage Ragù
Chiusoni Fresh Pasta with White Sausage Ragù.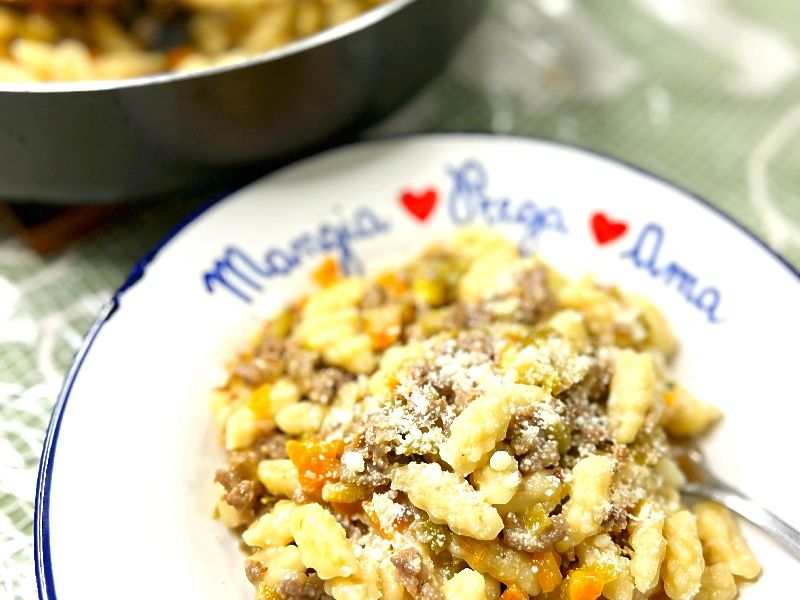 Ingredients
For 6 Person(s)
For the pasta:
2 1/4

cups

semolina rimacinata

About 2/3 cup tepid water
For the sauce:
1

pound

hot or sweet Italian sausage, casings removed

3

tablespoons

extra virgin olive oil

2

leaks, thinly sliced

2

medium carrots, cut into a 1/4 inch dice

3

celery stalks cut into a 1/4 inch dice

3

cloves garlic, sliced

1 1/2

teaspoons

salt

1

cup

dry white wine, such as Pinot Grigio

2

cups

water, chicken or vegetable broth

3

rosemary sprigs

3

thyme sprigs

1/2

cup

grated Parmigiano Reggiano cheese
Directions
Get the products needed for this recipe

HERE

To make the pasta:

Pour the semolina onto a clean work surface and make a well in the center. Add the water little by little, a few tablespoons at a time. Begin to mix with your fingers, catching any water that tries to escape from the sides.
Keep adding the water while trying to form a uniform ball of dough.
The dough will be crumbly at first but will begin to come together after 5-7 minutes of kneading.
Once you have obtained a uniform ball of dough and the dough no longer sticks to your hands, keep kneading with the heels of your hands for an additional 7-10 minutes, until the dough is smooth and soft but firm enough to hold an indentation. The end result should feel somewhat like playdo- damp to the touch but not sticky. If the dough feels too wet, dust it and your work surface with extra semolina. If the dough feels too dry, add a teaspoon of water at a time and knead it through.
To roll out the dough by hand cut the dough into 10 pieces and roll one piece at a time into a 1/2 inch thick rope. While rolling keep your fingers together and spread them apart to lengthen the rope.
Cut off 1/4 inch pieces from the rope. With a serrated knife like the Nonna Knife and using your thumb, roll each piece on the back of a cheese grater.
Lay the pasta out on a clean tablecloth or screen. Make sure none of the Chiusoni are touching one another or they will stick.
You may cook the pasta immediately or dry it overnight and transfer it to plastic bags. It will keep well in the refrigerator for about 1 week.

To make the sauce:

Put a large sauté pan over a medium-high flame and heat the oil.
Add the sausage and sauté while breaking it up with a wooden spoon until it's nicely browned, about 7-10 minutes.
Add the leaks, carrots, celery and garlic and salt. Sauté until soft. About 5-7 minutes.
Add in the white wine and cook until the alcohol has evaporated. About 1-2 minutes.
Add in the water or broth and the rosemary and thyme. Bring to a boil. Lower the flame to medium and cook for 15-20 minutes.
Drop your pasta into generously salted boiling water. Cook until Al dente. (The fresh pasta is al dente when it starts to float to the surface)
Toss the pasta in the sauce over high heat for 1-2 minutes.
Remove from heat and sprinkle the cheese over the pasta. Allowing the residual heat of the pan to melt it in as you toss it together.
Serve with an extra sprinkle of grated cheese.