Prosciutto & Mozzarella Savory Ciambella Cake
Prosciutto & Mozzarella Savory Ciambella Cake.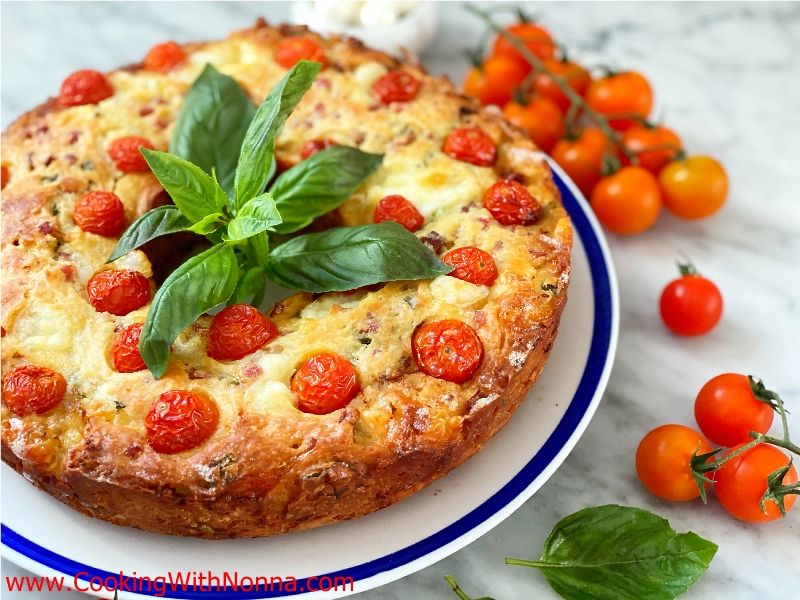 Ingredients
For 9 Person(s)
For the Cake:
2 1/4

cups

all purpose flour

2

teaspoons

baking powder

4

large eggs

1/2

cup

olive or vegetable oil

2/3

cup

whole milk

1/2

teaspoon

salt

1/4

teaspoon

black pepper

1/2

cup

grated Parmigiano Reggiano cheese

1/4

cup

packed basil leaves, finely chopped

8

ounces

prosciutto, cut into a 1/4 inch dice

4

ounces

mozzarella, shredded or cut into 1/2 inch cubes. (I used little Mozzarella pearls that I found in the supermarket cheese case)

8

cherry tomatoes, halved
Directions
Preheat your oven to 375 degrees. Spray a tube pan with baking spray. Set aside.

In a mixing bowl whisk together the flour and baking powder. Set aside.

In another mixing bowl combine the eggs, oil, milk, salt and pepper. Whisk to combine and then add in the grated Parmigiano cheese and basil.

Stir in the dry ingredients until they are just absorbed. Do not over mix.

Fold in the meats and cheeses and top with the halved cherry tomatoes.

Transfer the batter to the prepared pan and bake until golden brown and an inserted toothpick comes out clean. About 45-55 minutes.

Cool for 10 minutes in the pan and then invert it onto a plate.
Reviews
Tuesday, 30 June 2020
It was very dry even though very flavorful. Maybe needs more olive oil?
- bgcola