Pumpkin Tiramisu`
Tiramisu is a beloved Italian dessert. It's smooth, creamy and caffeinated so what's not to like? I love making it for holidays primarily because it's no-bake and let's be honest, we're all trying to find and easy and delicious way to make something special for big gatherings. I mixed some canned pure pumpkin (not pumpkin pie filling) into the classic mascarpone and whipped cream base and added amaretto liqueur to the coffee for a little kick. You can totally leave it out or substitute it with a touch of almond extract to make it alcohol free. Everyone is going to love this fall twist on an Italian classic!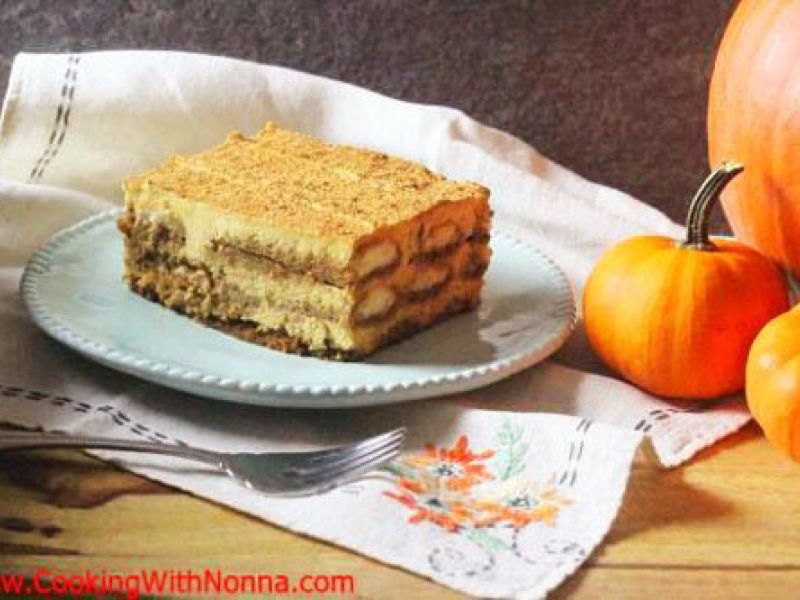 Ingredients
For 8 Person(s)
For the Coffee Mix:
2 1/4

cups

brewed espresso coffee

3/4

cup

Amaretto liqueur or Almond Extract to taste

1/4

cup

whole milk
For the Filling:
2

c

heavy whipping cream

2

tablespoons

confectioners sugar

16

ounces

mascarpone cheese (room temperature)

15

ounces

pure pumpkin (not pumpkin pie filling)

1/2

cup

light brown sugar

2

teaspoons

pumpkin pie spice

about 48-50 lady finger cookies or Savoiardi (I used about 16 per layer and made 3 layers in a 9x13 inch pan)
For the Topping:
1

tablespoon

granulated sugar

1

tablespoon

ground cinnamon
Directions
Get the Lady Fingers (Savoiardi)

HERE!

In a shallow dish combine the espresso, amaretto or extract and milk. Mix to combine and set aside.

In a mixing bowl combine the heavy whipping cream and confectioners sugar. Whip until stiff peaks form and set aside.

In a large mixing bowl combine the mascarpone, pumpkin, light brown sugar and pumpkin pie spice. Gently fold the ingredients together with a rubber spatula until smooth and well combined.

*Note: Try and be gentle while mixing mascarpone because it has a tendency to curdle and become a bit grainy if it's overworked. If this happens then don't worry too much, the tiramisu will still be good, but try to avoid it!

Gently fold the whipped cream into the pumpkin mixture until smooth and airy. Set aside

Dip each lady finger cookie into the coffee mixture and lay them into a 9x13 pan (I used a glass Pyrex) break the cookies to fit them in if necessary. I did two rows of 6 cookies vertically and two rows of 2 cookies horizontally, but just make sure the cookies fit nicely together.

Spoon 1/3 of the filling over the first layer of cookies and repeat 2 more times.

In a small bowl whisk the cinnamon and sugar together and sprinkle it over the top layer.

Refrigerate for at least 4 hours or overnight. Serve chilled.
Recipe Notes
*Note: The pieces will cut really beautifully if you pop it in the freezer for 20-30 minutes.