Rice with Tomato Sauce - Riso al Pomodoro
Rice with Tomato Sauce - Riso al Pomodoro, one of Nonnas comfort foods.
Ingredients
For 4 Person(s)
For the Risotto
3

tablespoons

extra virgin olive oil

1

small onion, finely diced

3

cups

passata or tomato puree

1/2

teaspoon

salt

1 1/2

cups

arborio rice

grated Parmigiano Reggiano cheese
Now Available:
La Grande Famiglia Pasta Pack
with
FREE Shipping!
Get it HERE!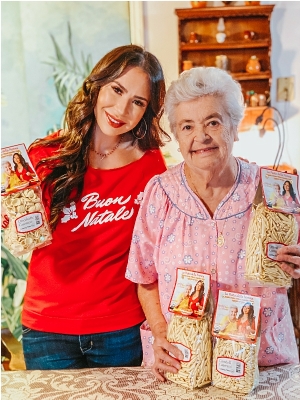 Directions
Put a large saucepan over a medium flame and heat the oil. Add the onions and sauté until translucent, about 5 minutes.

Add in the tomato pure and salt. Lower the flame to low and cook for 15-20 minutes.

In a separate saucepan bring 4 cups of water to a boil. Add the rice and cook until tender, about 15-20 minutes. Scoop out the rice and add it to the sauce. Mix over a low flame for 1-2 minutes.

Serve with the grated parmigiano reggiano cheese.