Ricotta Artichoke Tart Recipe
Ricotta Artichoke Tart recipe.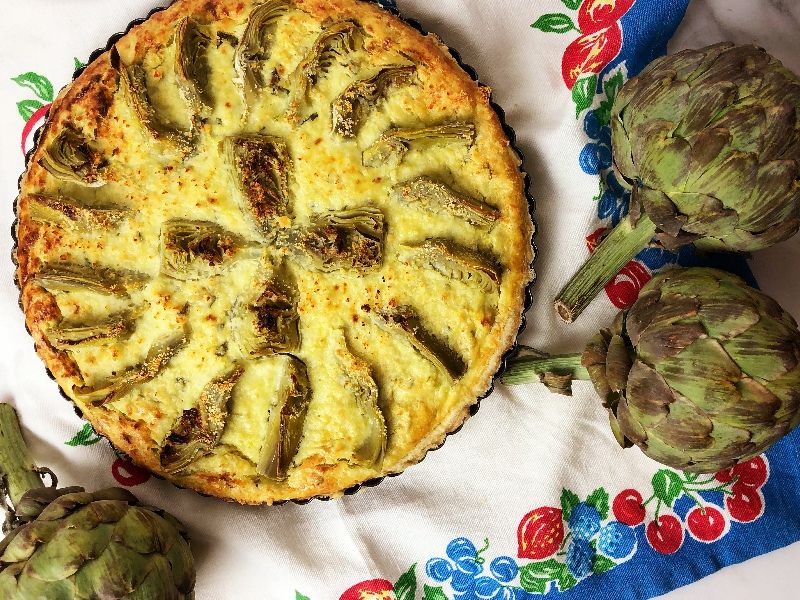 Ingredients
For 6 Person(s)
For the Crust:
1

sheet frozen puff pastry dough, thawed
For the Filling:
2

9oz packages frozen artichokes, thawed

2

cups

whole milk ricotta

1/4

cup

fresh mint leaves, minced

3

large eggs

1

cup

grated Pecorino Romano cheese, plus more for sprinkling
Directions
Prepare the Crust:

Place the thawed crust on a very large piece of floured parchment paper. Roll the crust out with a rolling pin until large enough to fit into the 9 inch pan.
Place your hand under the parchment paper and flip the dough into an 9 inch loose bottom tart pan. Peel off the parchment and arrange the dough so it comes up the sides and trim any excess that hangs over. Dock the crust with a fork and refrigerate white you make the filling.

To make the Filling:

Preheat your oven to 350 degrees
In the bowl of a food processor combine the ricotta and one package of thawed artichoke hearts. Process until the artichokes are chopped and all the ingredients are combined.
Remove to a mixing bowl and mix in the grated cheese and eggs until smooth.
Pour into the refrigerated crust. Add the second package of artichoke hearts to the top and sprinkle generously with the grated pecorino cheese.
Bake until the top is golden brown and an inserted toothpick comes out clean, about 1 hour.
Reviews
Saturday, 18 May 2019
Sounds fantastic can't wait to make it
- Bread Lady