Apple Almond Ricotta Crumble Cake
Apple Almond Ricotta Crumble Cake.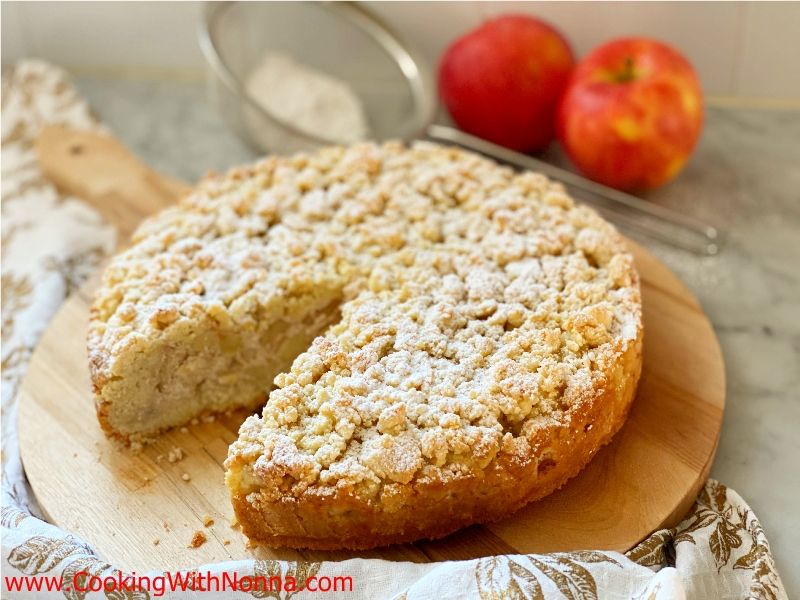 Ingredients
For 1 Batch(es)
For the Filling:
2

cups

whole milk ricotta

1

teaspoon

cinnamon

1

teaspoon

almond extract

1

packet Pane Angeli Vanillina powder

2

Gala or Granny Smith apples, cut into 1 inch chunks

confectioners sugar for dusting
For the Crumble Crust:
2 1/3

cups

00 or all purpose flour

3/4

cup

almond flour

2

teaspoons

baking powder

1/2

cup

granulated sugar

1/2

cup

cold butter, cut into pieces

2

large eggs

2

packets Pane Angeli Vanillina powder

1

tablespoon

almond extract
Directions
Get the Ingredients you need for this Recipe

HERE!

Preheat your oven to 350 degrees. Spray a 9 inch springform pan with baking spray.

To make the filling:

Pass the Ricotta through a strainer into a mixing bowl to smooth out any lumps.

Add in the cinnamon and extracts and mix well.

Fold in the apple chunks. Set aside.


To make the crumble crust:

In a mixing bowl whisk together the flour, almond flour and baking powder.

Add in the sugar, butter, eggs and extracts. Mix with your hands until all the dry ingredients are absorbed and a crumbly dough forms.

Press half the dough into the prepared pan making sure to press slightly it up the sides of the pan as well.

Spread the filling over the crust. Crumble the remaining dough over the ricotta filling.

Bake for 45-55 minutes, or until the top of the crust is slightly browned. Cool to room temperature and dust with confectioners sugar before serving.

*This cake should be stored in the refrigerator. If you make it ahead of time take it out of the fridge about 20-30 minutes before serving.
Reviews
Tuesday, 20 October 2020
I don't know why the bickering. Simply add the sugar to the rest of the ingredients and proceed. T...
See Full Review >>
- Gbussek01
Monday, 19 October 2020
Like the previous reviewer, I noticed that the sugar was left out in directions but listed in the i...
See Full Review >>
- Jovanna
Saturday, 17 October 2020
I don't know who reviews your recipes before you publish them but this is the second recipe that I...
See Full Review >>
- didicat