Roasted Peppers
Roasted Peppers... so colorful... so good!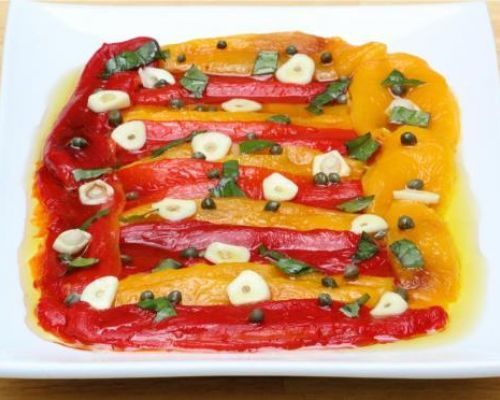 Ingredients
For 6 Person(s)
For the Peppers:
3

red peppers

3

yellow peppers

3

cloves garlic

1

tablespoon

small capers

2

leaves basil

extra virgin olive oil

salt
Directions
Wash the peppers and either grill them on the BBQ or in the oven until the skin begins to burn on all sides.

Let them cool off and remove the skin, the stem and the seeds.

By hand make filets and place them in a platter.

Garnish with EV olive oil, slices of garlic, basil and the capers. Sprinkle salt as desired.

Let the plate rest in the fridge for a few hours to marinate and then serve.
Categories:
Nonna Romana Sciddurlo
,
Appetizer Recipes
,
Puglia Recipes
,
Easy Recipes
,
All Recipes
,
Christmas Recipes
,
Thanksgiving Recipes
,
Easter Recipes
,
Valentine's Day Recipes
,
Mother's Day Recipes
,
Father's Day Recipes
,
Memorial Day Recipes
,
4th July Recipes
,
Peppers Recipes
,
Labor Day Recipes
,
Valentine's Day  Recipes
,
Summer Appetizer-Side Recipes
,
Diabetic Appetizer Recipes
,
Heart Friendly Appetizers Recipes
,
Gluten Free Appetizer Recipes
,
Vegetarian Appetizer Recipes
,
Vegan Appetizer Recipes
,
Mediterranean Diet Appetizer Recipes
,
Thanksgiving Appetizers and Sides Recipes
,
Christmas Appetizer Recipes
,
Easter Appetizer and Side Recipes