Sausage Spinach & Ricotta Pie
Sausage Spinach & Ricotta Pie.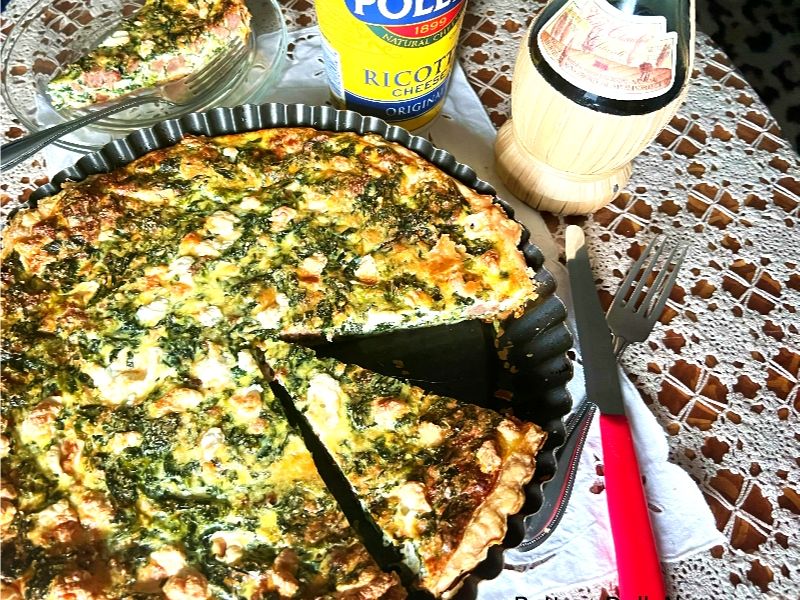 Ingredients
For 1 Batch(es)
For the Pie:
2

tablespoons

extra virgin olive oil

1

pound

sweet Italian Sausage, casings removed

1

sheet puff pastry dough, thawed

1

cup

whole milk ricotta cheese

8

ounces

fresh mozzarella, cut into 1/2 inch cubes

6

large eggs

1

10oz package frozen spinach, thawed. Excess moisture squeezed out

1

teaspoon

salt

1/4

teaspoon

black pepper

2

teaspoons

garlic powder
Directions
Get the 10 1/2 Inch Pan

HERE

Preheat your oven to 375 degrees.

Put a skillet over a medium-high flame and heat the oil. Add the sausage to the pan and cook while breaking it up with a wooden spoon. Cook until nicely browned. Set aside.

Place the thawed crust on a very large piece of floured parchment paper. Roll the crust out with a rolling pin until large enough to fit into the 10 1/2 inch pan.

Place your hand under the parchment paper and flip the dough into a 10 1/2 inch pan. Peel off the parchment and arrange the dough so it comes up the sides and trim any excess that hangs over. Dock the crust with a fork and refrigerate white you make the filling.

Add the cooled sausage and the remaining ingredients to a mixing bowl and mix until combined.

Spread the filling over the crust and bake for 50-60 minutes or until the cheese is golden brown. Let rest for 15 minutes before cutting. May be served warm or at room temperature.