Spaghetti with Pancetta and Rosemary
This is one of my absolute favorite winter spaghetti dishes! It's absolutely perfect for curling up on a chilly night with some beautiful red wine. Feel free to swap out the pancetta for guanciale or even bacon!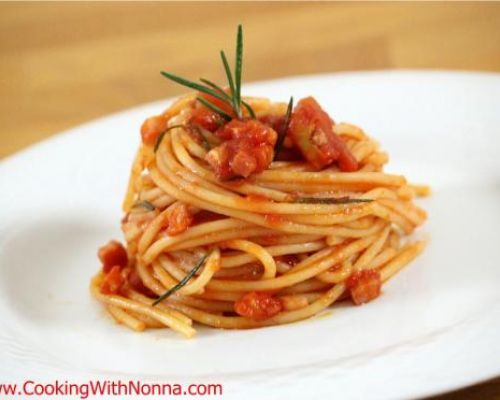 Ingredients
For 4 Person(s)
For the Spaghetti:
1

pound

Spaghetti

4

ounces

Pancetta, cubed

28

ounces

crushed tomatoes

1/2

cup

white wine

3

cloves garlic, chopped

2

sprigs rosemary

3

tablespoons

extra virgin olive oil

1

cup

grated Parmigiano Reggiano cheese

salt and pepper to taste
Directions
In a large sauté pan heat the oil over a medium flame and add the rosemary. Sauté for about 30 seconds and then add the garlic. Sauté until the garlic just begins to color and add the pancetta.

Sauté the pancetta for about 2-3 minutes and add the wine. Reduce the wine until all the alcohol has evaporated and then add the tomatoes.

Add salt and pepper to taste at this time. Bring the sauce to a boil and lower the flame to a simmer. Simmer for about 10-12 minutes. Remove the rosemary sprig.

Cook the spaghetti until very al dente and add them to the sauce. Toss together for 1-2 minutes. Turn off the heat and add the grated cheese. Toss together allowing the residual heat of the pan melt the cheese.

Serve in warm bowls with an extra sprinkling of grated cheese.