The Italian Hot Dog
The Italian Hot Dog.
There's nothing like Nonna's fried and marinated Zucchini alla Poverella to top your favorite barbecued hot dog this summer. If you like relish you will absolutely LOVE this! The Zucchini are fried till golden brown and then soaked in red wine vinegar, fresh garlic and lots of mint until they're bursting with flavor.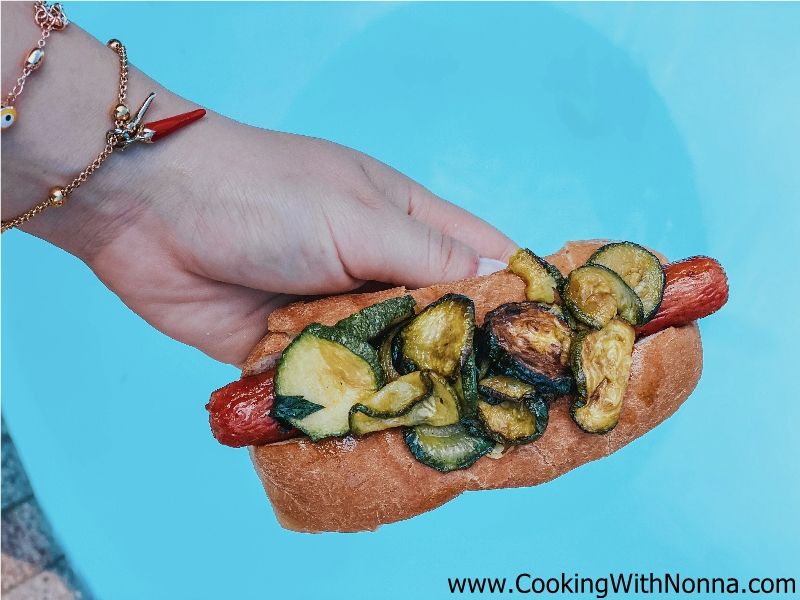 Ingredients
For 6 Person(s)
For the hot dogs:
For the zucchini:
6

mediun zucchini

3

cloves garlic, chopped finely

1

tablespoon

chopped fresh mint

3

tablespoons

red wine vinegar

salt

3

tablespoons

extra virgin olive oil

oil for frying
Directions
To make the hot dogs:

Cook the hot dogs according to the package instructions.*The Zucchini taste best on hot dogs that have been cooked on the barbecue.

To make the zucchini:


Wash the Zucchini and slice them in rounds a little less than 1/4" thick.
Add a little olive oil in a saute` pan and saute` all the sliced zucchini on both sides until they are golden brown. Place on paper towels and set aside.
Transfer the fried zucchini on a serving platter and sprinkle with salt as desired.
In a small bowl mix the vinegar, oil, garlic and fresh mint. Add salt as desired.
Pour mixture over the zucchine, cover and refrigerate for 2-3 hours.
Top the hot dogs with 2-3 tablespoons of the zucchini or as desired.