Vegetable Soup with Anelletti Siciliani
Vegetable Soup with Anelletti Siciliani.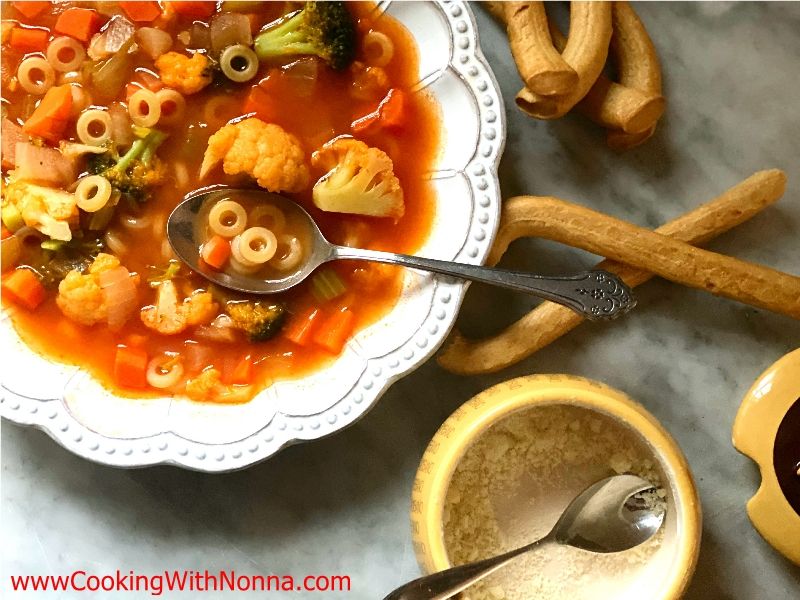 Ingredients
For 4 Person(s)
For the Soup:
2

tablespoons

extra virgin olive oil

2

medium carrots, cut into a 1/4 inch dice

2

celery stalks, cut into a 1/4 inch dice

1

small onion, cut into a 1/4 inch dice

14 1/2

petite diced tomatoes or 1 cup tomato purée

6

cups

chicken broth or 6 cups water and 1 chicken bouillon cube

2

cups

broccoli florets

2

cups

cauliflower florets

8

ounces

Anelletti Pasta (See link below to get the Anelletti)
Directions
Get the Anelletti Pasta

HERE!

Put a stock pot over a medium flame and heat the oil.

Add the carrots, onions and celery and cook until soft, about 5-7 minutes. Season with salt and pepper.

Add in the can of petite diced tomatoes or the passata and cook for another 5-7 minutes.

Add 6 cups of water and the bouillon cube or the 6 cups chicken broth and bring to a boil.

Add in the broccoli and cauliflower and return the pot to a boil. Cook until tender, about 5 minutes.

Drop the pasta into a separate pot of salted boiling water. Cook for about 8 minutes. The pasta will still be slightly hard.

*the pasta will keep cooking in the soup, so you don't want to overcook it before mixing it together.

Drain and add the pasta to the soup pot. Boil for 1-2 minutes and serve in warm bowls with a sprinkle of grated cheese.