Vegetable Tortellini Soup
Vegetable Tortellini Soup.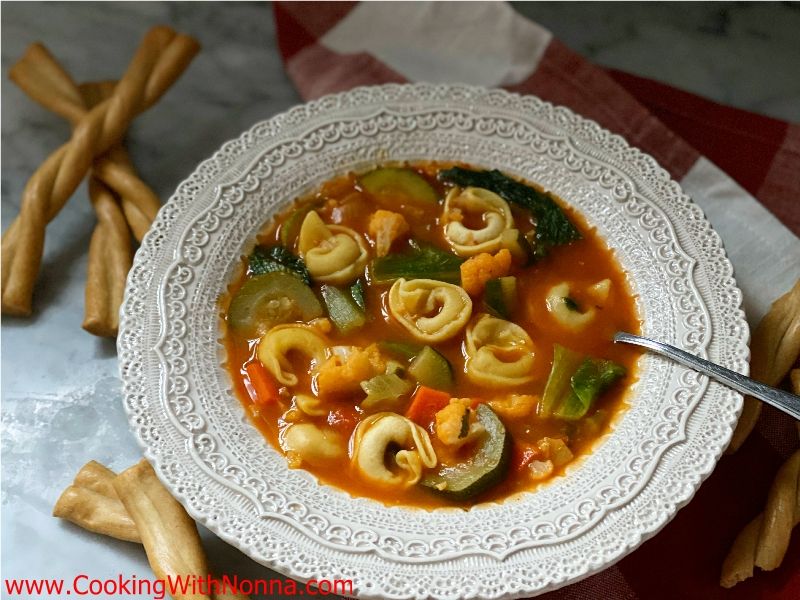 Ingredients
For 4 Person(s)
For the Soup:
2

tablespoons

extra virgin olive oil

2

carrots, cut into a 1/4 inch dice

2

celery stalks, cut into a 1/4 inch dice

3

shallots, sliced

14

ounces

can cherry tomatoes or 2 cups canned crushed tomatoes

6

cups

chicken broth or 6 cups water and 1 chicken bouillon cube

2

small zucchini, cut into a 1/2 inch dice

2

cups

cauliflower florets

1

head escarole, sliced into 1 inch strips

1

bag frozen cheese tortellini
Directions
Put a stock pot over a medium flame and heat the oil.

Add the carrots, shallots and celery and cook until soft, about 5-7 minutes. Season with salt and pepper.

Add in the can of cherry tomatoes or the crushed tomatoes and zucchini. Cook for another 5-7 minutes.

Add 6 cups of water and the bouillon cube or the 6 cups chicken broth and bring to a boil.

Add in the cauliflower and return the pot to a boil. Add in the escarole and the tortellini. Cook until the escarole is tender and the tortellini are cooked, about 5 minutes.

Serve with a generous sprinkle of grated cheese.