Zeppole di San Giuseppe - St. Joseph's Pastries
Zeppole... it is well worth waiting for St. Joseph's Day.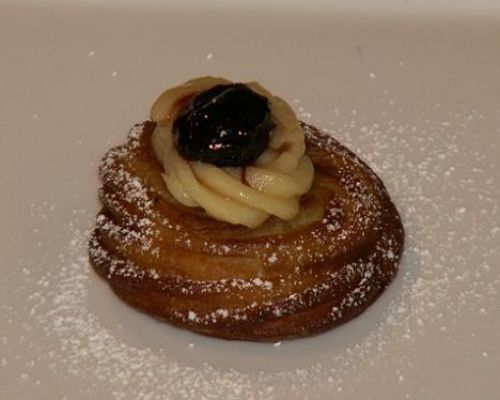 Ingredients
For 2 Dozen(s)
For the Cream:
4

cups

milk

6

egg yolks

10

tablespoons

sugar

6

tablespoons

corn starch

1

lemon, peel only

1/2

orange, peel only
For the Zeppole:
6

large eggs

2

cups

00 or all purpose flour

1 3/4

cups

water

4

ounces

butter

1/2

cup

sugar

1

lemon, zest only

oil fro frying

Amarene
Garnishing:
powdered sugar

wild cherries in sugar or Amarene
Directions
Cream Preparation:

Mix the corn starch and sugar in a pot.

Add the milk and mix well.

Add the egg yolks and mix well.

Put the pot on the stove at low heath, add the lemon and orange peels and stir continuously in the same direction until the cream thickens.

Remove the lemon and orange peels and discard.

Put the cream aside and let it cool off.

Zeppole Preparation:

In a high pan put the water and the butter.

Put the pan on the stove and melt the butter.

Add the lemon zest and mix well.

While still on the stove, slowly add the flour and let it absorb all the fluids until you obtain a firm ball. Continue mixing the dough on the stove for about 10 mins.

Remove from the stove and add the sugar. Mix well so that the sugar is incorporated into the dough.

Put the dough in a cool place and let it cool completely.

Once the dough is completely cooled off, put the dough in a stand mixer and one at the time add the eggs and let them be absorbed into the dough.

By this time the dough will be rather soft and you will be able to put it into a pastry bag.

Cut several squares of 4x4 of baking paper and on each one start from the center and squeeze the dough from the pastry bag to form a bird's nest with a hollow space in the center. You now have a zeppola.

While the zeppola is still on the paper put the zeppola into the hot frying oil. The paper will quickly separate from the zeppola and you will be able to remove it.

Turn the zeppole several times until they turn golden-brown on both sides.

Remove the zeppole from the oil, let all the oil drain and once the zeppole are cold, you are now ready to garnish them.

Put the cream in the pastry bag and fill the hollow center of the zeppola with a bit of overflow on top.

Add either a wild cherry or an amarena on top and garnish with powdered sugar.
Reviews
Wednesday, 21 March 2018
Has anyone noticed that the BUTTER is missing from the zeppole ingredient list? Now really! Probab...
See Full Review >>
- antoniocd
Sunday, 04 March 2018
These came out very nice. The only thing I had to change was to NOT double thetic knees of the doug...
See Full Review >>
- Cakebaker
Tuesday, 12 December 2017
WOW... I thought that Lenny\'s Pizza on 86th St. Was the Zep.. king... I think your Nonna\'s win Han...
See Full Review >>
- The Wizard