Cannoli for Valentine
Cannoli for Valentine... a sweet way to show all your love!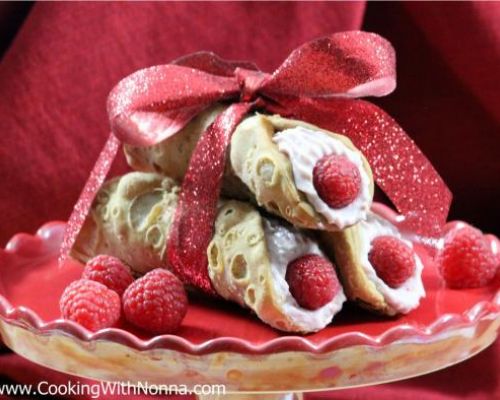 Ingredients
For 10 Person(s)
For the Cannoli:
1

pound

ricotta impastata

5

ounces

powdered sugar

1

tablespoon

vanilla extract

1/2

pound

fresh raspberries
Directions
Mix the Impastata with the sugar.

Pass the entire content through a sieve so that you obtain a very creamy and velvety mix.

Add the vanilla extract and mix well.

In a food processor liquefy the raspberries and add them to the ricotta. Mix well.
Recipe Notes
PS: If you cannot find Ricotta Impastata, you can use regular Ricotta, but you need to drain some water from it before you can use it. You can do this by putting the Ricotta in cheesecloth for 2 days and let it drain. Of course you keep it in the refrigerator while you are doing this operation.