Cantucci Baresi - Almond Biscotti
Cantucci Baresi or Almond Biscotti... great with coffee or tea or after dinner dipped in Vin Santo or any other sweet wine!
They are also great dipped in coffee or a cappuccino!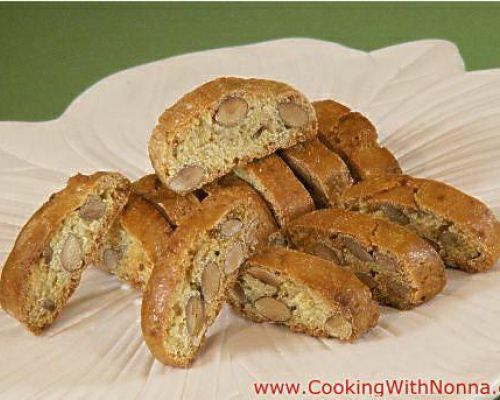 Ingredients
For 4 Dozen(s)
For the Cookies:
1

pound

lightly toasted whole almonds

1

pound

all purpose flour

1/2

pound

sugar

4

large eggs

2

lemons, zest only

2

teaspoons

vanilla extract

1

teaspoon

baking powder

1

egg for the egg wash
Directions
Pre-heat the oven at 350F.

In a large bowl mix 4 eggs and all the other ingredients.

Roll the dough into 3 logs of about 1 1/2" thick and place them on a baking sheet lined with baking paper.

Beat the remaining egg into an egg wash and with a brush spread it over the logs.

Bake at 350F for 30 mins.

Remove from oven and cut the logs with a large sharp knife in slices of 1/2" wide.

Put all the Cantucci back on the baking sheet and bake for 25 mins. and 300F.
Categories:
Nonna Romana Sciddurlo
,
Dessert & Cookie Recipes
,
Puglia Recipes
,
Easy Recipes
,
All Recipes
,
Christmas Recipes
,
Easter Recipes
,
Valentine's Day Recipes
,
Mother's Day Recipes
,
Father's Day Recipes
,
Memorial Day Recipes
,
4th July Recipes
,
Labor Day Recipes
,
Christmas Cookies Recipes
,
Easter Cakes and Cookies
,
Valentine's Cake and Cookie Recipes
,
Cookies Recipes
,
Vegetarian Dessert Recipes
,
Mediterranean Diet Dessert Recipes
,
Almond Cookie and Dessert Recipes
Reviews
Thursday, 14 December 2017
Make sure to separate the pieces a bit before you put them back in the oven for round 2, makes them ...
See Full Review >>
- alex1234
Thursday, 14 December 2017
so so delicious-easy to make. I drizzled Baileys icing[ baileys & icing sugar mixed]and melted ...
See Full Review >>
- Josy
Thursday, 08 September 2016
Really nice crunchy biscuites. I just found that the dough was a bit too sticky. It it the way it ...
See Full Review >>
- runkica