Chestnut Flour Pizzelle (Gluten Free)
This tasty Italian treat is made with chestnut flour, therefore it is Gluten Free! Chestnut flour is made from chestnuts that have been heated and smoked for an extended amount of time till they are hard enough to be ground to a very fine powder similar to the consistency of cornstarch. You will notice that the flour is not only sweet in flavor but it is very smoky from the smoking process. After baking, the smokiness is gone but the sweet flavor will remain. I hope you make and enjoy this version of pizzelles. Good luck.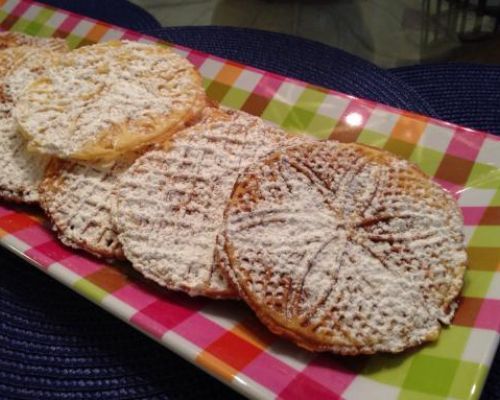 Ingredients
For 1 Person(s)
For the Pizzelle:
3

eggs beaten

3/4

cup

sugar

1 1/2

cups

margarine (melted and cooled)

3/4

cup

chestnut flour

1

teaspoon

baking powder

1

teaspoon

anise flavor

1

teaspoon

pure vanilla extract

confectioners sugar for topping
Directions
Beat eggs, then add vanilla and anise flavor.

Stir in the melted margarine.

After liquids are mixed, let's add the flour.

Sift the chestnut flour and baking powder into the liquids.

Batter is now ready for use.

Spoon about a tablespoon of batter onto the top third of the iron surface.

Close pizzelle maker and let cook until most of the steam stops emmiting from maker.

If pizzelle is browned to your likeness remove and start process again.

I use chopsticks to remove the pizzell from the hot iron.

Place pizzelles onto a rack to cool.

Sprinkle cooled pizzelles with confectioners sugar.
Recipe Notes
The instructions above are for very thin crispy pizzelles. If you would like to make a thicker pizzelle, one that will freeze better, add an additional quarter cup of flour to the mixture. To deposit this batter onto the pizzelle maker simply roll about one tablespoonful in your hands and then drop onto center of pizzelle iron. For the thin batter above, I use a pancake batter dispenser. I find that using margarine instead of butter produces a crispier pizzelle. I generally spray the pizzelle iron with Pam before making the first pizzelle, after that there is enough margarine within the pizzelle to keep them from sticking.
Reviews
Thursday, 14 December 2017
Frank, just fabulous! Delicious and used chestnut flour plus gluten free!
- angellite13
Thursday, 14 December 2017
Frank, I see you found the the chopstick trick, too. I can\'t wait to try your recipe, as I\'m t...
See Full Review >>
- musillid
Thursday, 14 December 2017
You may want to review the amounts of oil to flour ratio in this recipe. I have made this recipe 4 ...
See Full Review >>
- Congetta
Thursday, 08 September 2016
Very good. I thickened batter a bit by adding more flour.
- Ang44ny