Chicken Parmigiana Recipe
Chicken Parmigiana Recipe, a classic dish from the Italian-American cuisine. Serve it with some greens and fresh tomatoes and you will have a complete meal.
Some people refer to this dish as Chicken Parm, but regardless of what you call it, it is really good.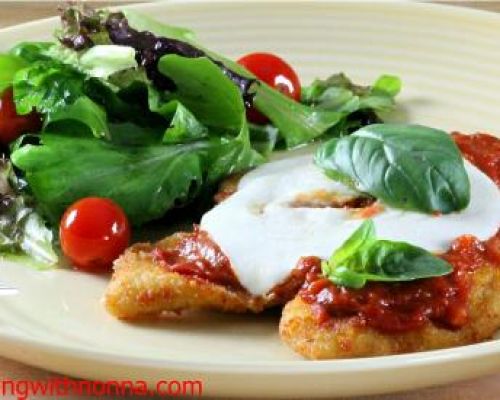 Ingredients
For 4 Person(s)
For the Chicken Parmigiana:
1

pound

thin fried chicken cutlets (Recipe Here)

1

cup

narinara sauce (Recipe Here)

1

pound

mozzarella

grated Parmigiano cheese
Directions
Preheat the oven to 350F.

Make the fried cutlets as per the recipe above. (Here it is again: Cutlets Recipe)

Place all the cutlets in a shallow baking pan.

Pour a few tablespoons of Marinara sauce on each cutlet and spread it but not to totally cover the cutlet.

Sprinkle some Parmigiano cheese over the sauce.

Place a slice of mozzarella over the sauce.

Bake for about 10 mins or until the mozzarella is melted.

Add some greens and cherry tomatoes and serve.