Corzetti Stampati al Limone
Here is a lovely dish of Corzetti Stampati dressed with a light lemon sauce. Corzetti are coin shaped pasta from Liguria. They are created with a two piece hand carved wooden stamp, and I made these with a stamp created especially for me by Maestro Intagliatore Franco Casoni who lives in Chiavari. Sig. Casoni is one of the last living artisans to make these charming stamps whose history hails back as far as the Renaissance. These stamps make pasta that is not only a joy to eat, but a joy to behold, a fitting and suitably celebratory pasta for a birthday meal. This lemon sauce has a pleasingly bright flavor, evocative of the Italian sun. It says summer, Italian lemons.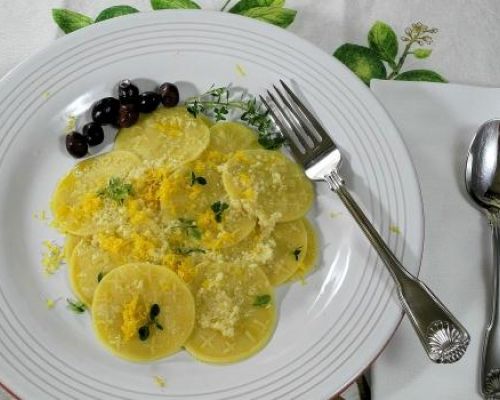 Ingredients
For 4 Person(s)
For the Dough:
2

cups

cups 00 or all-purpose flour

2

large eggs plus one large egg yolk

2

tablespoons

tablespoons olive oil

bit of water, if necessary

flour for the board and towels
For the Sauce:
1/3

cup

Ligurian extra virgin olive oil

1/2

cup

grated Parmigiano cheese, and moreat the table

2

lemons, juice only

4

tablespoons

chopped herbs such as: thyme, Italian parsley and basil

1

tablespoon

lemon zest

salt and pepper

Taggiasca olives a a garnish on plate
Directions
To make the dough:

Place flour in workbowl of food processor fitted with steel blade.

Place eggs and olive oil in measuring cup. Mix lightly with fork.

With processor running, add egg mixture in a steady stream until dough comes together, about 30 seconds. Check to see if dough is too wet or too dry, adding flour or water as needed. Remove dough from processor and knead about 1 minute.

Wrap in plastic and allow it to rest 30 minutes

To make Corzetti:

For this recipe you will use one half of the dough recipe.

Roll dough to setting 5 on pasta machine.

Cut and imprint corzetti.

Place pasta "coin" on flour lined towel and repeat with remaining dough.

Cover corzetti with a towel until ready to use.

Bring a large pot of water to boil. Salt water abundantly and drop corzetti in. Cook until done, about 2 to 3 minutes.

To make the sauce:

Combine oil, Parmigiano and lemon juice, starting with juice of 2 lemons, in warm pasta bowl.

Taste for balance, adding more oil or lemon juice if desired.

Add pasta and toss to coat.

Add a few tablespoons of pasta water to loosen sauce if necessary.

Add salt and black pepper and taste again.

Depending on your lemons, you may have to add more juice or more oil.

Toss with herbs and top with lemon zest.

Serve with additional Parmigiano and herbs.

Garnish with Taggiasca olives.
Recipe Notes
Corzetti are round pasta made with an ingenious two piece wooden stamp. One piece has a circular cutting edge on the bottom, and a design is carved into the top. The design might be a family coat of arms, flowers, palm trees or other decoration. The second piece has a decorative design cut into the bottom. The bottom circular edge is used to cut a round piece of pasta which is then placed between the two pieces of the stamp with the designs, The two pieces are gently pressed together to create a lovely piece of embossed pasta. The design is functional as well as decorative - it holds the condimento better than any smooth piece of pasta ever could. Enjoy corzetti, a link to the illustrious past of the Most Serene Republic of Genoa, capital of Liguria.
Categories:
First Course Recipes
,
Italian Pasta Recipes
,
Liguria Recipes
,
Intermediate Recipes
,
All Recipes
,
Easter Recipes
,
Valentine's Day Recipes
,
Mother's Day Recipes
,
Father's Day Recipes
,
Recipe Contest Winners
,
Homemade Pasta Recipes
,
Valentine's Day  Recipes
,
Easter Dinner Recipes
,
Vegetarian First Course Recipes
,
Mediterranean Diet First Course Recipes
,
Easter First Course Recipes
,
Lemon Recipes