Cucciddatu or Buccellato
This is a very traditional donut that Sicilians make at Christmas.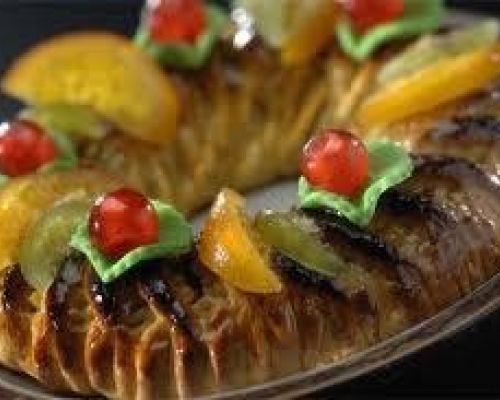 Ingredients
For 1 Batch(es)
For the Buccellato:
17 1/2

ounces

(500 grams) of flour 00

7

ounces

(200 grams) of sugar

10 1/2

ounces

(300 grams) of butter

4

large eggs

3 1/2

ounces

(1 dl.) milk

5 1/5

ounces

(150 grams) walnuts

10 1/2

ounces

(300 grams) of dried figs

2 1/10

ounces

(60 grams) pistachios

3 1/2

ounces

(100 grams) sultanas (golden raisins)

1 3/4

ounces

(50 grams) of dark chocolate drops

5 1/5

ounces

(150 grams) of chopped toasted almonds

5

cloves very finely divided

8 3/4

ounces

(250 grams) of diced zuccata = candied pumpkin

pinch of ground cinnamon (preferably a vanilla bean)

orange marmalade - as much as necessay

cherries and candied orange peel

1/2

cup

Marsala wine
Directions
Procedure for the dough

Mix the flour with butter, sugar, three eggs, a pinch of salt, milk, until the ingredients become homogeneous and consistent.

Wrap it in transparent film and leave it in the refrigerator for around an hour and half.

Procedure for the stuffing

Chop coarsely the dry fig and put them in a bowl with the other egg, the sultana grape, the cinnamon, the walnuts and the almonds minced in not too small pieces, the zuccata = candied pumpkin, cloves and Marsala.

Mix well and put on the fire for about ten minutes. Remove from heat and add three spoons of jam. Leave it to cool.

Making the Cucciddatu

Roll out the dough not too much thin (around a centimeter) and form a rectangle on which we will place the stuffing.

Close this rectangle, forming a large salami. Fold this roll on itself, sealing the ends well, so that you get a donut.

Lay the Cucciddatu on a baking sheet lined with parchment paper and cut into the surface (from these cuts you must see the stuffing).

Place in a preheated oven at 355F for about half an hour.

After this time, paint the churning Cucciddatu with a tablespoon of orange marmalade diluted with water, then sprinkle with chopped pistachio nuts and put in the oven for another five minutes.

Once cooked, garnish with candied fruit. Allow to cool and remove it permanently from the pan.