Frese di San Rocco - Bread of St. Rocco's Bread
Frese di San Rocco - Bread of St. Rocco's Bread.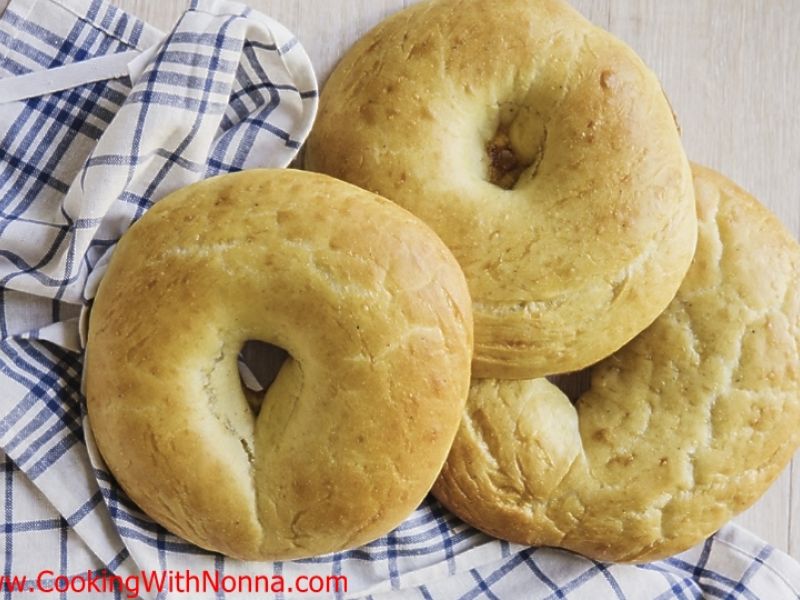 Ingredients
For 3 Batch(es)
For the Bread:
4

cups

bread flour

1 1/4

cups

warm water

1

packet active dry yeast

eggs, room temperature, divided, 3 for the dough and 1 for brushing the top

2

ounces

lard, room temperature

1/4

cup

extra virgin olive oil, plus more for brushing the bowl and the pans

2

teaspoons

salt

1/4

teaspoon

black pepper
Directions
In the bowl of a stand mixer fitted with the dough hook attachment dissolve the yeast in 1 cup of the water and let stand until the mixture bubbles, about 3 minutes.

Add in the eggs and lard and begin mixing on low speed.

Stream in the oil and begin adding in the flour gradually.

Finally add in the salt, pepper and the remaining 1/4 cup of water.

Mix on medium speed until a smooth, supple dough forms and no longer sticks to the sides of the bowl. The dough should be very wet but not stick to your hands.

Brush a large mixing bowl with oil and and place the dough inside the bowl. Cover the bowl with plastic wrap and let rise in a warm place until the dough has doubled in size, about 1 hour 30 minutes to 2 hours.
Recipe Notes
Nonna's Tip:
Break off a small piece of dough and put it in a glass of warm water. When the dough has risen to the top that usually means your dough has finished rising. A little trick I learned from my Nonna!
Oil 2 13x18 inch baking sheets.
Turn the dough out onto a lightly floured surface and divide the dough in 3 equal pieces. Roll each piece of dough into a 2 inch thick rope and shape each rope into a ring. Arrange the rings on the baking sheets. Make sure the frese do not touch one another. Cover the baking sheet with a clean kitchen towel and let rise in a warm place until doubled in size, about 1 hour
Preheat your oven to 400 degrees.
Brush the tops of each ring with the beaten egg.
Bake until the frese are golden brown, about 18-20 minutes.