Gnocchi with Gorgonzola Sauce
Gnocchi with Gorgonzola Sauce... creamy and delicious!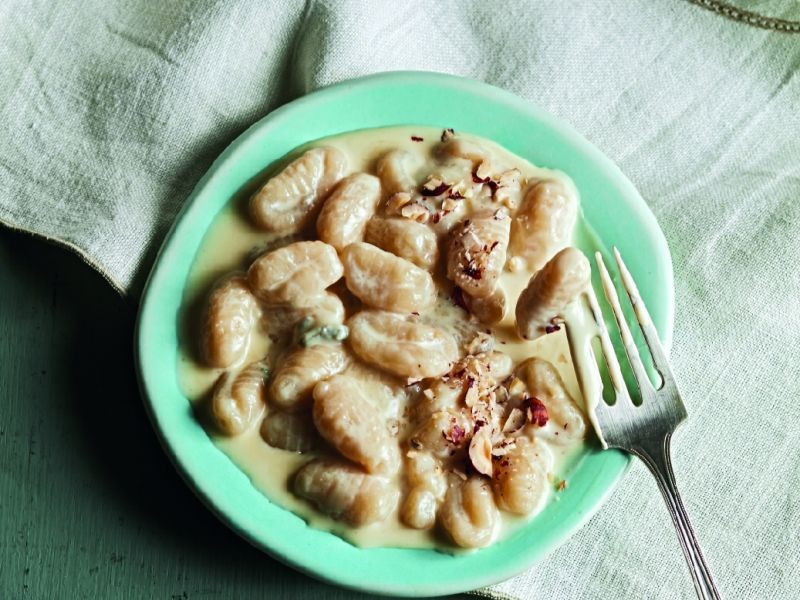 Ingredients
For 4 Person(s)
For the Gnocchi:
1

pound

gnocchi, homemade preferably

1/2

pound

gorgonzola cheese

1

cup

heavy cream

1/2

cup

toasted almonds - crushed finely

black pepper
Directions
Cook the gnocchi in salted water.

In a saute` pan, add the heavy cream and let it get ward but do not bring to a boil.

Add the gorgonzola cheese, press down on it so that it breaks up and melts into the cream. Once the cheese has melted, let the sauce simmer al low heat for 3 minutes.

Add the cooked gnocchi to the sauce, raise the flame and mix well for 2 minutes. If the sauce is too dry, add some pasta water.

Serve and garnish with black pepper and crushed almonds.
Categories:
First Course Recipes
,
Italian Pasta Recipes
,
Easy Recipes
,
All Recipes
,
Christmas Recipes
,
Thanksgiving Recipes
,
Easter Recipes
,
Cooking with Rossella
,
Valentine's Day Recipes
,
Mother's Day Recipes
,
Father's Day Recipes
,
Homemade Pasta Recipes
,
Italian Pasta Sauces
,
Easy Pasta Recipes
,
Valentine's Day  Recipes
,
Vegetarian First Course Recipes
,
Thanksgiving First Course Recipes
,
Christmas First Course Recipes
,
Easter First Course Recipes
,
Gnocchi Recipes