Hot Stuffed Cherry Peppers
This is a way of preserving the harvest of cherry peppers. They are first soaked in a brine of 1 part white vinegar to 3 parts cold water in a large glass or ceramic vessel for 3 weeks refrigerated. They are then cored and stuffed with a mixture of ground prosciutto and provolone, placed in clean canning jars, covered with vegetable oil. They do not need to be refrigerated. Perfect for antipasto.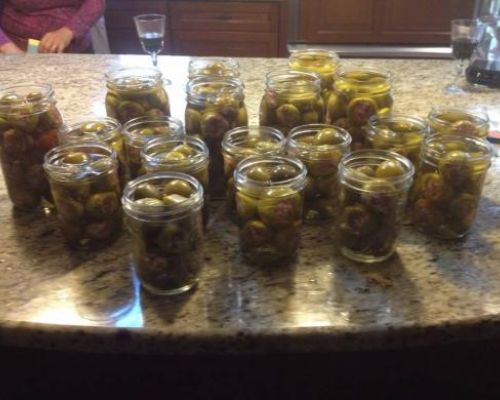 Ingredients
For 1 Batch(es)
For the Peppers:
1

box of cherry peppers (about 5 pounds) green ones preferably

2

gallons

white vinegar

6

gallons

water

4

pounds

prosciutto ground into small pieces in food processor

1

pound

hard aged provolone cheese grated

2

tablespoons

Italian seasoning

1

teaspoon

garlic powder

1

can of anchovies ground in food processor

1/4

cup

vegetable oil
Directions
Wash and stem the cherry peppers.

Prepare the solution of vinegar and water. Pour over the pepper.

Place peppers in a ceramic or glass bowl with a cover. Refrigerate for 3 weeks, make sure the peppers are completely covered.

You may have extra vinegar and water solution - discard it after the peppers are covered.

Chop the prosciutto into small pieces and grind in food processor into small pieces.

Grate the provolone cheese.

Chop the anchovies in food processor until pulverized.

Mix these ingredients in large bowl with the Italian Seasoning and Garlic Powder.

Moisten with the vegetable oil - set aside.

Discard the vinegar solution and core and hull the peppers.

Stuff the peppers with ground mixture, pressing down into the pepper. Do not overstuff.

Place the peppers in clean canning jars and cover with vegetable oil.

Seal the jars and store in cool place.

Can be used immediately or within 6 months.
Recipe Notes
The vinegar solution is an over estimate. As long as it is a 1 to 4 ratio I always make more than I need. I run the canning jars through the dishwasher and set on heated dry before putting the peppers in.
Reviews
Thursday, 14 December 2017
Yes this sounds like the recipe for the ones I've had in Italy. They can also be stuffed with good,...
See Full Review >>
- oliodimelli