Italian Butter Cookies
Every time Nonna would have her "girlfriends" over, a.k.a other Nonne, they would usually bring over a box of old fashioned Italian butter cookies. I would inspect them in amazement as I would trace the perfect swirls of "pasta frolla" (their Italian name) that would lead to a sweet candied cherry. This recipe is as close to an Italian bakery as it gets. The dough is a pretty basic short bread cookie. I used a large star tip (the larger the better as piping these out is a bit of a labor of love) and went with a classic swirl. If your dough feels a little too stiff add an extra tablespoon of milk to smooth it out.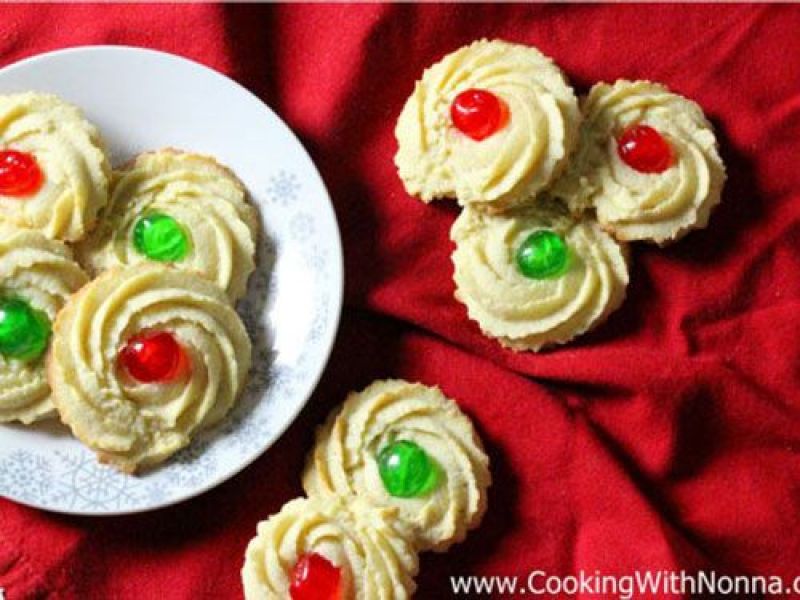 Ingredients
For 2 Dozen(s)
For the Cookies:
2

cups

all purpose flour

1/2

teaspoon

baking powder

1/4

teaspoon

salt

8

ounces

unsalted butter, softened

2/3

cup

granulated sugar

1

teaspoon

vanilla extract

2

egg yolks, room temperature

3

tablespoons

whole milk

candied cherries for garnish
Directions
Preheat your oven to 350 degrees.

Line a baking sheet with parchment paper

In a mixing bowl whisk together the flour, baking powder and salt. Set aside.

Combine the butter, sugar and vanilla in another mixing bowl and beat with an electric mixer on medium speed until smooth and fluffy.

Beat in each of the egg yolks one at a time until fully incorporated.

Add in the dry ingredients and beat until a stiff dough forms. Add in the milk until fully absorbed. Do not over mix.

Transfer the dough to a pastry bag fitted with a large star tip. Pipe out swirls onto the baking sheet about 1 1/2 inches apart. I made about 6 per sheet. Add a candied cherry to the center of each swirl.

Bake for 12-14 minutes or until the edges are golden brown. Cool completely before serving.
Categories:
Dessert & Cookie Recipes
,
Baking with Rossella
,
Easy Recipes
,
All Recipes
,
Christmas Recipes
,
Thanksgiving Recipes
,
Easter Recipes
,
Valentine's Day Recipes
,
Mother's Day Recipes
,
Father's Day Recipes
,
Christmas Cookies Recipes
,
Easter Cakes and Cookies
,
Valentine's Cake and Cookie Recipes
,
Cookies Recipes
,
Thanksgiving Dessert Recipes
Reviews
Thursday, 09 January 2020
I made these cookies for the New Year and they were gone in a day. My mother told me that they were ...
See Full Review >>
- SisterOfNight
Saturday, 21 December 2019
Soooo Gooood
- karatlady