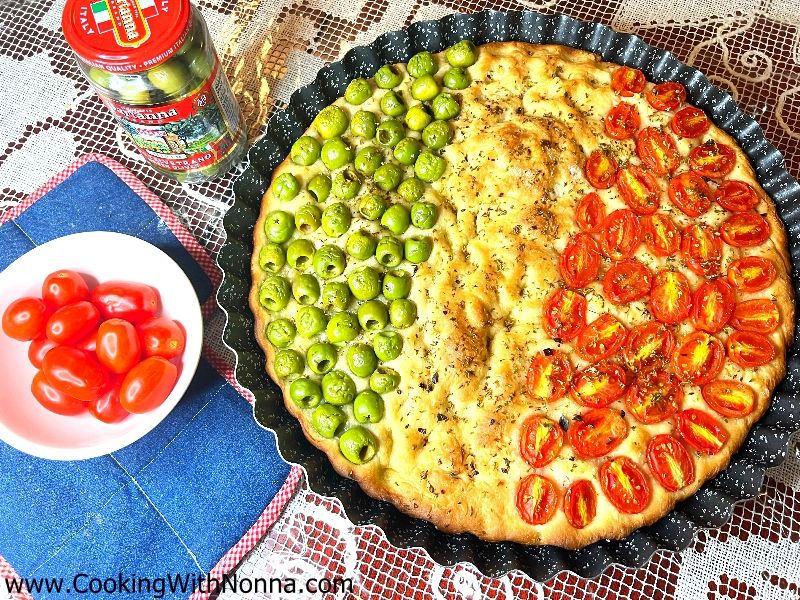 Ingredients
For 1 Batch(es)
For the Focaccia:
1 1/2

cups

water

1/2

cup

extra virgin olive oil, divided, plus more for drizzling

2

packets active dry yeast

1

teaspoon

sugar

1 1/2

tablespoons

salt, plus more for sprinkling on top

4

cups

all purpose flour

9

ounces

pitted Castelvetrano olives

1

pint

cherry tomatoes, sliced in half

dry oregano as desired
Directions
Yield: one 15 inch focaccia

Get all the products you need for this recipe

HERE

In a large bowl combine the warm water (not too hot or you will kill the yeast) 1/4 cup of the oil and sugar. Sprinkle the packets of yeast on top and let stand until bubbly, about 10 minutes.

Add in the flour and salt a little at a time and mix with your hands until all the flour is absorbed and a supple dough forms. This can take about 7-10 minutes. You can mix the dough directly in the bowl or on a clean work surface.

Oil your hands and Transfer the dough to a bowl brushed with olive oil. Brush the ball of dough with more oil. Cover with plastic wrap and set aside to rise for 1 hour or until doubled in volume. Punch down the dough.

Add the remaining oil to the bottom of a 15 inch round pan making sure all the edges are coated with oil.

Transfer the dough to the pan and begin spreading it with your fingers into an even layer. Make small indentations with your fingers. Drizzle liberally with extra virgin olive oil and oregano.

Cover with plastic wrap and Rise for 1 hour.

Preheat your oven to 465 degrees.

Decorate the focaccia with olives and tomatoes to resemble the Italian flag. Drizzle with a bit more oil and bake for 30-35 minutes or until the bottom is nicely browned.
Reviews
Friday, 28 July 2023
I made the focaccia using Nonnas pan! The recipe was easy to follow and the end result came out grea...
See Full Review >>
- BillySalts