4th July Focaccia
Celebrate America's birthday with a beautiful and tasty 4th of July Focaccia!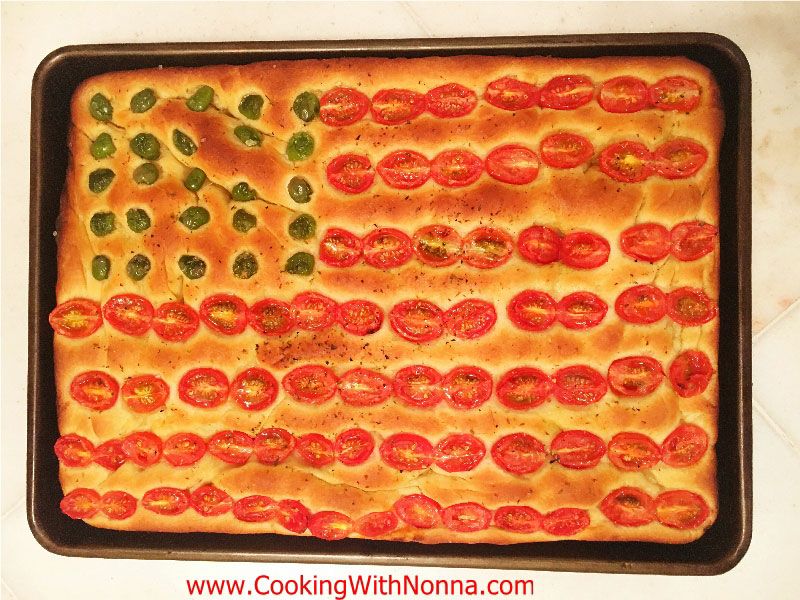 Ingredients
For 10 Person(s)
For the Dough:
4

tablespoons

extra virgin olive oil

1 1/2

cups

lukewarm water

1 1/2

packets dry yeast

2

teaspoons

salt

4

cups

all purpose flour
For the Topping:
1 1/2

pints

cherry tomatoes

green olives

1

teaspoon

dried oregano

salt

1/2

cup

extra virgin olive oil
Directions
To make the Dough:

In the bowl of a stand mixer fitted with the dough hook attachment combine the oil, yeast and water. Let stand until the yeast is dissolved, about 5-8 minutes.

In another mixing bowl whisk together the flour and salt. With the mixer running on low speed slowly add in the flour. Mix until a smooth, supple dough forms, about 8-10 minutes.

Transfer the dough to a bowl brushed with olive oil. Brush the ball of dough with more oil. Cover with plastic wrap and set aside to rise for 1 hour or until doubled in volume. Punch down the dough.


Make the Focaccia:

Preheat the oven to 430 degrees.

Add 1/4 cup of the oil to a 13 x 18 baking pan and spread it evenly, making sure you coat the bottom and sides of the pan.

Spread the dough to the edges of the pan with your fingers, starting from the center and working your way out. If it does not stretch completely, let it rise for another 10 minutes and then complete the stretching.

Slice the olives in half and position them in the top left corner to mimic the stars of the flag. Cut the cherry tomatoes in half and position them to create the seven red stripes.

Drizzle the remaining extra virgin olive oil over the tomatoes and the olives. Sprinkle to oregano and salt as desired.

Cover with plastic wrap and set aside to rise in a warm place for 1 hour. Bake for 25-30 minutes.
Reviews
Wednesday, 18 November 2020
Amazing...I have tried several focaccia recipes, by far this is the best.
- lilv1229