Italian Pizzelle
A old recipe given to me a long time ago by a very good and old Italian friend.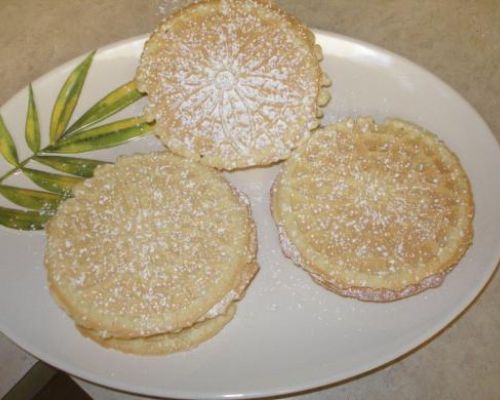 Ingredients
For 1 Batch(es)
For the Pizzelle:
4

cups

all purpose flour

12

large eggs

2

cups

sugar

1 1/4

cup

canola oil

vanilla extract, to taste

Anisette, to taste

powdered sugar

***

You will get many Pizzelle!
Directions
Mix together eggs, oil, vanilla, anisette.

Then add in the sugar and mix well

Then add in the flour by sifting it a litle bit at a time and mixing with mixer until all the flour is gone.

When the Pizzelle press is heated put one small teaspoon of the mix in each section and cook until light golden brown.

After they have cooled and before serving sprinkle with powdered sugar or you can spread some Nutella on them.
Reviews
Sunday, 16 December 2018
I made these today and they turned out perfect!
- blpagnani
Thursday, 14 December 2017
Many of my family and friends love them and have asked me for the recipe. When they ask you for the ...
See Full Review >>
- Mimi